Interview with IT Svit CEO on DevOps, Cloud and Big Data
Our CEO, Volodymyr, recently spoke with Clutch, a technology research firm based in Washington, DC, about the intersection of Cloud Computing, Big Data and DevOps.

The interview comes after this reputable rating company named IT Svit as one of the top IT managed service providers worldwide.
In the interview Volodymyr highlights that the companies choosing a cloud service provider should consider both the amount and the type of data being stored. He goes on to explain how big data ties into cloud computing:
"Cloud is elastic by its nature and seems to be an ideal choice for big data or data analysis. At the same time, the cloud's distributed nature can be problematic for big data scaling. It is challenging to make storage perform to a level which enables this kind of distributed computing… When building an infrastructure on top of any cloud provider or host, companies should consider storage performance in a highly-virtualized distributed cloud."
On the topic of DevOps, Volodymyr breaks down how each individual principle can lead to improved IT reliability:
"The DevOps benefits come from its principles. Infrastructure repeatability ensures that all elements are stable and expected. When components transition or recovery is required, we know that everything will work properly. Components' immutability leads to stable component operation during their lifecycle. It means we prefer not changing the settings of a running application, favoring the replacement of an application with a new state instead."
IT Svit has grown from a small development team to a top-ranked IT company with over 60 developers in house. Our clients vouch for our commitment to quality in Clutch's independently verified reviews. One of our clients, the CEO of an search engine provider, gave us 5 star reviews across the board: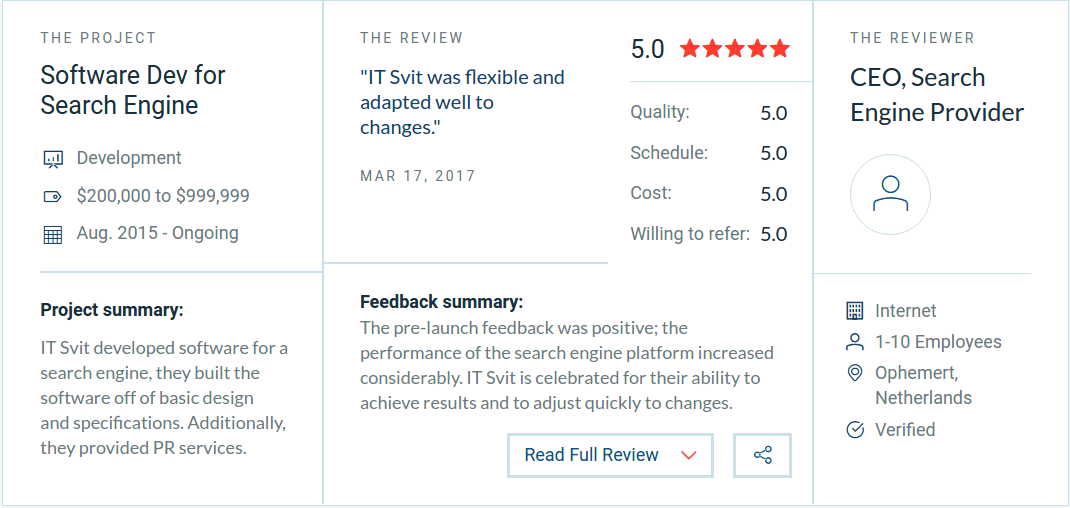 You can read more 5 star reviews here. Please contact us with any enquiries!
The full version of the interview is available on Clutch website.