What is Google Cloud best used for? GCP machine types and services
Many businesses have to go online in 2020 and they want to know what is Google Cloud capable of? Let's take a look at GCP machine types and services
In the time of global crisis cost-efficiency of resource allocation becomes paramount. Google Cloud Platform is one of the best choices when it comes to cost-efficiency of cloud computing operations and it provides a wide range of virtual machines for all types of tasks — from long-term data storage to batch processing, running apps or performing CPU-intensive jobs. Let's take a closer look at what is Google Cloud best used for and list GCP machine types along with the tasks they can perform.
What is Google Cloud good at? Everything!
First of all, what is Google Cloud composed of and what is it best used for, in terms of virtual machines? This clarification is essential, as covering Google Cloud in its entirety would require effectively doubling millions of characters of their in-depth help documentation. GCP provides cloud application hosting and data storage, monitoring and security services, Big Data processing and CI/CD pipeline configuration for software development and infrastructure management, serverless computing and distributed database management — and the list can go on and on… 
However, based on IT Svit experience, most customers go to Google Cloud to solve some specific business challenges. They want to increase the performance of their databases, secure their mission-critical assets, enable rapid development of features for their products, etc. In general, Google Cloud has more than a hundred services, tools, platforms and products able to solve literally any business challenge and help companies big and small reach their objectives. All of this grew from humble over a decade of providing the capabilities of world-class infrastructure behind Google Search Engine and Google Drive Suite to everybody, for free.
Google Cloud provides top-notch security. This is proven by more than 8 various industry-wide certifications, and GCP has won Gartner's "World's best cloud security" title for many years. Companies like Pizza Hut, PayPal, Home Depot, Target and HSBS have selected Google Cloud as their technology provider — and these enterprise mammoths take their cybersecurity quite seriously.
Hybrid cloud and multi-cloud strategy. Many enterprises have invested decades and billions of dollars in building their legacy software delivery and data management. These companies come from retail, telecom, finances, healthcare and a variety of other industries — and they usually are industry-leaders in their respective domains.
20th Century Fox, eBay, L.L.Bean, Bloomberg, Colgate-Palmolive and other global leaders use Google Cloud to improve their customer experience by providing better software delivery workflows and infrastructure management processes, Big Data processing, etc. This allows them to build software delivery and infrastructure management pipelines that work equally well in the hybrid cloud and multi-cloud scenarios — so they can build it once with Google and use it anywhere they like.
The flexibility of operations. Google Cloud enables a wide variety of service models — from IaaS to PaaS and SaaS as well as serverless computing with Google Functions. This helps build automated processes, save money at scale and provide transformative experiences both to businesses and to their customers. Metro and Nielsen, LG and LATAM Airlines work with Google Cloud to optimize their IT operations, data processing and software development and bring more value to their customers.
Artificial Intelligence and Big Data Analytics. Trained and empowered by intense Google Translator and Google Search Engine usage, AI/ML models and Big Data analytics processes from Google Cloud are world-leading instruments that can help any company turn its Big Data into a goldmine of useful business insights. The New York Times, SKY U.K., Target and McKesson use Google to imbue their IT systems with the latest achievements of AI development and reap the benefits of Big Data analytics at scale.
Endless innovation. Google is one of the technology leaders worldwide, developing a wide variety of projects that change our lives daily and Google Cloud is where these innovative solutions are first deployed — so Google Cloud users are the ones that can benefit from them at once. There are more than 40 pages of Google Cloud customers covering 300+ world-leading companies in total, so they and more than 5 million startups, SMBs and individual users get instant access to the latest technological wonders from Google.
Per-second billing and other discounts. This is one of the most compelling benefits of GCP. Depending on the type of services you use and the term of usage, you can save up to 90% as compared to AWS or Azure due to leveraging various cost-saving options. Per-second billing, long-term discounts, preemptible VM instances and other ways of cutting on expenses help more than 5 million users remain competitive and cost-efficient in the time of crisis.
As you can see, Google Cloud can cover any request your business or organization might have and provide reliable multi-faceted services. However, how to select the most appropriate infrastructure components for your Google Cloud systems?
GCP machine types and what to use them for
Google Cloud delivers Infrastructure-as-a-Service by the means of its Google Compute Engine. GCE is an interface to the entirety of hardware resources currently deployed by Google, allowing the customers to use this hardware and networking assets. Google Compute Engine VMs boot in under 30 seconds, which is 4-10x times faster than the similar offers from competitors.
Compute engine uses KVM hypervisor to manage GCP virtual machines — predefined or custom sets of virtualized resources, including vCPUs, persistent disk space, bandwidth and certain RAM volumes. These instances are split into several GCP machine types according to a quite straightforward classification.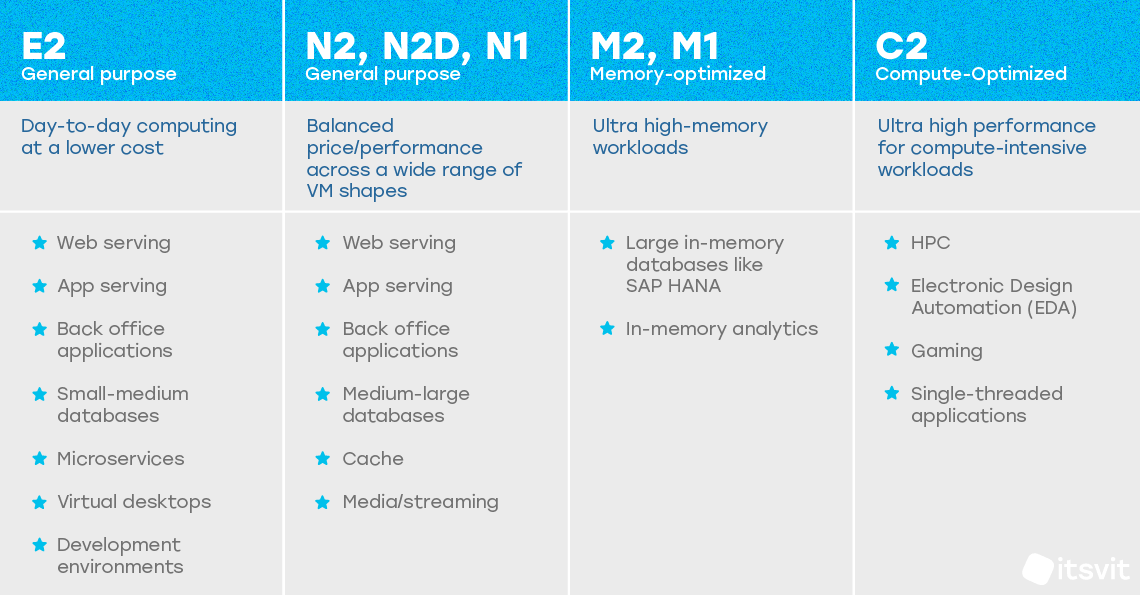 Predefined GCP machines
As you can see, these virtual machines are split into 4 main categories:
E2 general-purpose instances,
N1,2,2D family of machines for standard tasks,
M1, M2 high-memory instances for memory-intensive tasks,
C2 instances with high vCPU volumes for compute-intensive use
Google Compute Engine allocates the computing resources in units (GCEU) according to 4 main parameters: the CPU power, allocated memory size, egress bandwidth and persistent disk volume. Depending on the combination of these parameters, you can select a machine type best suited for performing the tasks you need to be done.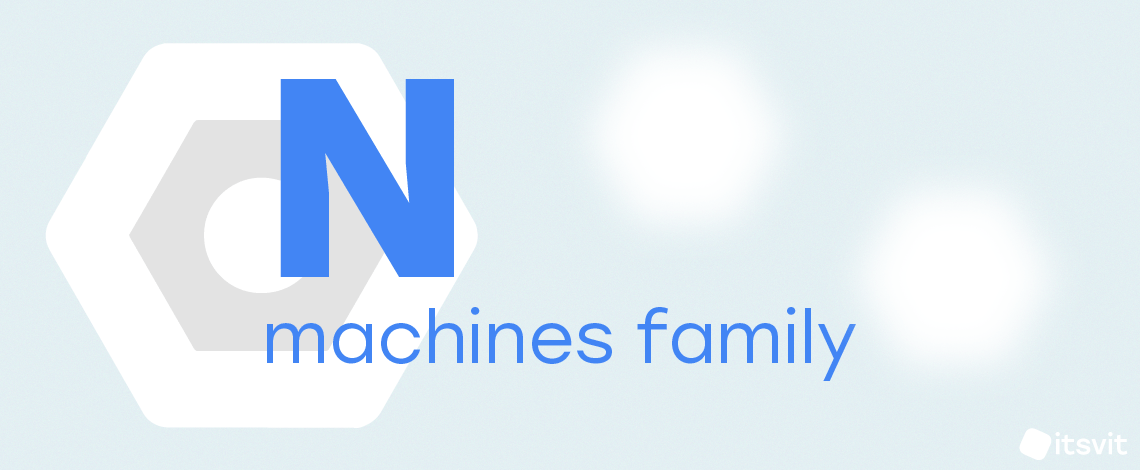 N machines family
For example, n1-standard machines come in 8 variations, with every next doubling the resources of the previous one, from 1 vCPU with 8 GB of RAM to 96 vCPUs with 360 GBs of memory. The persistent disk size is limited to 257 TB in this type, and the egress bandwidth varies from 10 to 32 Gbps. Each vCPU takes one thread in hyper-threading multicore processors like Sandy Bridge, Broadwell, Haswell and other models, used by Google Cloud.
These machines are best suited for running standard applications that consume their resources in a stable way and require a balanced combination of CPU power and memory. As shown above, this scenario is best for serving web and mobile apps, storing a cache of data, supporting media/streaming workloads, etc.
In addition, many of these machines can come in high-memory or high CPU combinations. For example, n1-highmem machines provide more memory per a single vCPU and come in 7 varieties ranging from 2 vCPUs with 13 GBs of memory to 96 vCPUs with 624 GBs of RAM. These machines are best suited to running medium-to-large in-memory databases and real-time data analytics or other memory-intensive tasks.
n1-highcpu machines have more vCPU power available per memory unit, namely 0.9 GB of RAM per 1 vCPU. This results in compute-intensive virtual machines best suited for running rendering jobs, supporting online gaming servers, running Electronic Design Automation tasks and complex single-threaded applications. These machines come with 7 options, ranging from 2 to 96 vCPUs and 2 to 86.6 GBs of memory.
There also are shared-core machine types, where the customers have access to short-time vCPU power spikes on request. This is great for applications that normally consume just a little resources, but can spike in workload at some moment. You can save a lot by running such applications on n1-micro or e2-micro virtual machines.
In addition. these machines can be also configured according to your custom specs to fit your unique project requirements. Custom machines can be created with any RAM-to-core ratio, up to 6.5 GBs per core.
To sum it up, n1, n2 and n2D machine family has the following characteristics:
provide access to up to 624 GBs of RAm and 96 virtual CPUs
come in predefined, shared-core and custom variants
can provide higher core-to-memory or memory to-core core on demand
benefit from sustained use discounts
can use GPUs for quick completion of CPU-intensive workloads
Thus said, IT Svit uses N1, N2 or N2D family of machines to build flexible system configurations able to handle a variety of resource-intensive tasks both for software delivery and for ongoing infrastructure management.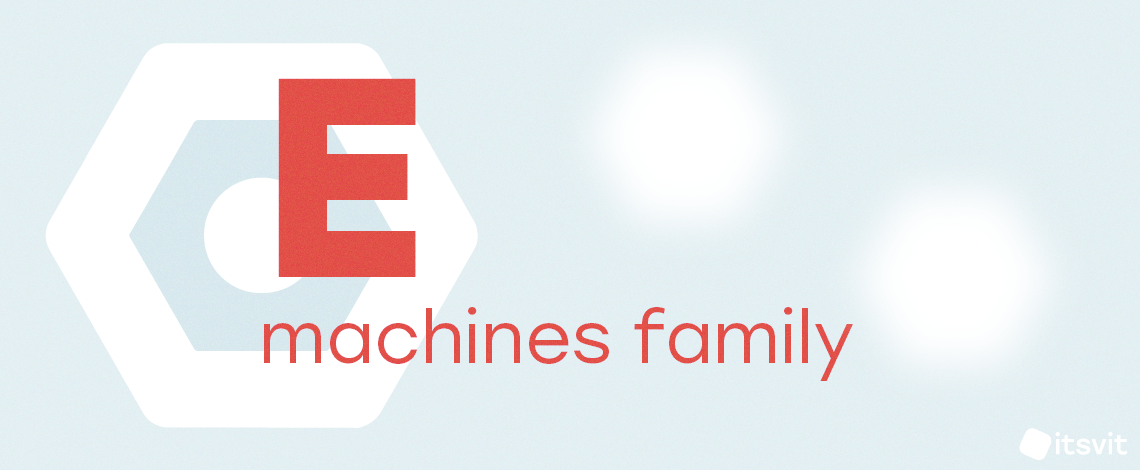 E machines family
Similarly, e2-standard machines are computing units best suited for small-to-medium tasks that require 16 vCPUs at most and do not require persistent SSDs or local GPUs. These general-purpose machines are perfect as inexpensive instances for running cloud-based Individual Development Environments (IDEs), virtual desktops for enterprise customers, small-scope web applications, smaller database instances with low resource consumption, microservice instances, etc.
E2-standard machines come in 4 configurations, from 2 to 16 vCPUs and from 8 to 64 GBs of memory. While e2 machines are not eligible for sustained use discounts, they are quite cost-efficient as it is due to their low committed-use pricing and absence of costly components like GPUs or local SSDs.
E2 machines also come in high-memory and high-cpu variants and have the following benefits:
Provide up to 16 vCPUs and 54 GBs of RAM at the lowest price available across all general-purpose GCP machine types.
Support a memory balloon feature
use the latest Intel or AMD EPYC Rome processors, which are selected automatically when you create an instance, based on availability.
However, due to their specifics, E2 machines have the following limitations:
Don't support local SSDs, GPUs, nested virtualization or single-tenant nodes
You cannot control the processor type you get
No sustained-use discounts.
Nevertheless, IT Svit found e2 general purpose machines to be the best building blocks for inexpensive and resilient cloud infrastructures at scale.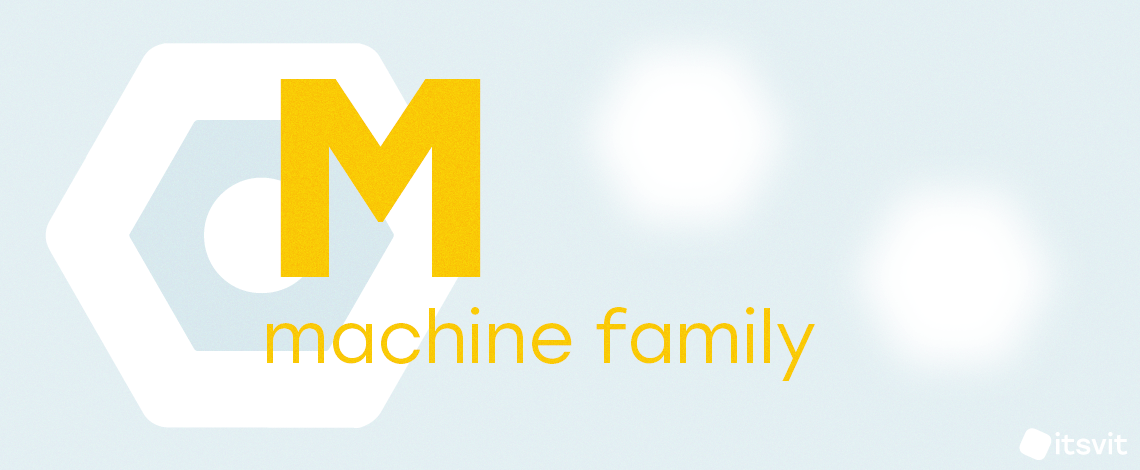 M machine family
M1- or M2-standard virtual machines are intended to use the tasks requiring much higher memory-to-cpu ratios than general purpose n-standard virtual machines. These tasks involve real-time in-memory data processing at scale and in-memory database management (like SAP HANA) or running SQL analytics jobs and so on. To enable this functionality, M1- and M2-standard machine types come with 14 to 28 GBs of RAM per vCPU.
However, certain restrictions apply:
Memory-optimized virtual machines don't allow using regional persistent disks
Not all Google Availability Zones provide this service
These instances come with only a limited selection of platforms.
Nevertheless, IT Svit found Google M1 and M2 machines to be extremely cost-efficient for projects that involve resource-intensive in-memory calculations, like real-time Big Data analytics.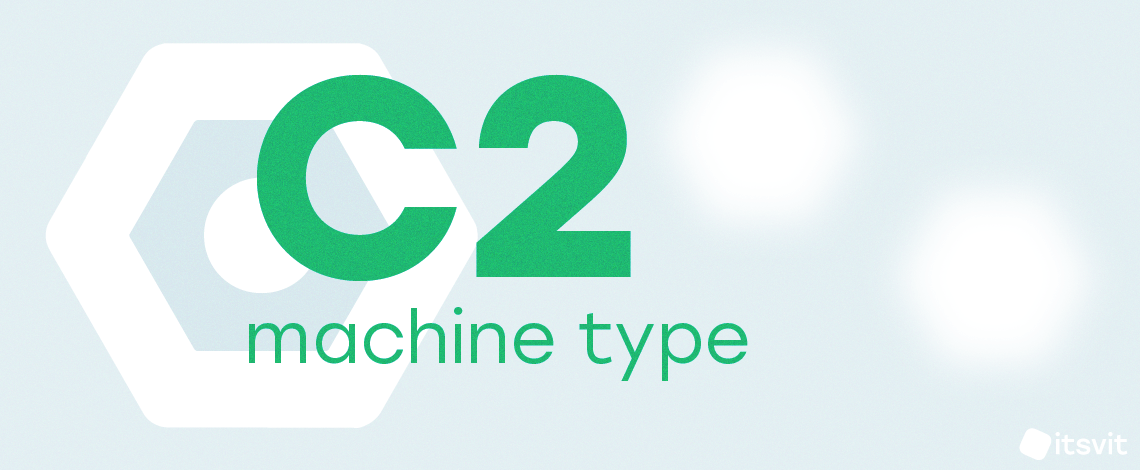 C2 machine type 
Finally, C2 virtual machines have a superior CPU-to-RAM ratio and are excellent for enabling resource-intensive computations, like running online gaming servers, complex single-threaded applications or rendering new designs. Built using the latest generation processors (Cascade Lake) these machines deliver up to 3.8 GHz all-core turbo CPU power and provide full transparency into the underlying infrastructure, enabling the users to fine-tune their performance.
With 4 to 60 vCPUs and 16 to 240 GBs of RAM, C2 machines are very powerful computing units, yet they also have some limitations:
Their disk limits and resource quotas differ from those for general-purpose machines
These machines cannot use regional persistent discs
C2 family of machines is only available in select regions and on select platforms
IT Svit uses these instances for training Machine Learning models and Artificial Intelligence algorithms, as they provide immense computational capacity and help accomplish these tasks very quickly.
Google Cloud pricing and discounts
One of the biggest benefits Google Cloud can offer to its customers is its flexible pricing policy. All VM instances are billed for 1 minute of usage minimum and for every second after that. Thus said, this might seem costly for jobs that run for 5 seconds, but it pays off hugely for tasks that run for hours on end.
Besides, all GCP machine types are susceptible to various pricing discounts unless directly stated otherwise. For example, users can benefit from the following cost reductions:
Sustained use discounts — price reductions for using vCPUs and memory in all machine types for prolonged periods (for a larger part of the billing month), as well as for using single-tenant nodes and GPU devices in your operations.
Committed use discounts — price reductions of up to 57% when paying for your SSDs, vCPUs and RAM for 1 or 3 years in advance. Most global corporations follow this route, allowing them to save millions in IT expenses over time.
Preemptible use discounts — price reductions due to using virtual machines from the currently free Google Compute Engine inventory. These instances cost very low but can be terminated (preempted) at any moment, if any other customer pays in full for the resources they consume.

This approach is best for building nodes for message broker services like Kafka or RabbitMQ. In this case, keeping the whole infrastructure running when no events occur can be very costly, but spinning up the whole system to process new batch of events and go back into the dormant state afterwards helps save a ton of resources while ensuring stable performance of your systems.
As you can see, Google Cloud Platform provides a wide variety of resources enabling its customers to solve various tasks big and small. IT Svit works with GCP for 5+ years and in that time we have gained deep insight and understanding of the GCP machine types and how to use them best. We also have a thorough understanding of using Google PaaS solutions like App Engine, Kubernetes Engine, StackDriver, BigQuery, DataProc and DataFlow. This allows us to build flexible, cost-efficient and transparent infrastructures and workflows that help our customers achieve their business goals. Should you need the same — IT Svit is ready to help, just contact us with your project requirements!