Upcoming DevOps Conferences 2019
Huge DevOps conferences like AWS re:Invent, DevOps Days, QCon or Jax DevOps always attract lots of attention. We list the events you might want to attend in 2019.

Whether your company is only adopting the DevOps culture or has come a long way in your digital transformation journey, attending DevOps conferences can give you an invaluable experience of hearing about real-life use cases and solutions you can apply in your business. It is also a great way for networking and approaching possible partners, contractors, and customers. Thus said, below are the 10 most notable upcoming DevOps conferences of 2019.
DevOpsDays
DevOpsDays is a continuous event that takes place in multiple locations across the globe throughout the year. These events are filled with discussions and curated talks on DevOps best practices and other aspects of software delivery and IT infrastructure management. While DevOpsDays tend not to gather huge crowds, networking is much easier there, as the attendants are usually passioned DevOps practitioners with rich hands-on experience.
At least 14 DevOpsDeys are already scheduled for 2019 — and new ones can be added near your location anytime! The list includes multiple spots across the globe:
Paris, France
Oslo, Norway
Kansas City, MO, US
Phoenix, AZ, US
Chattanooga, TN, US
Salvador, Brazil
A ticket is below $200 usually and provides a single pass to 2 days packed with conferences, curated talks, workshops and open-space sessions.
DockerCon
DockerCon is a conference organized by Docker that takes place in the US and the EU twice a year. The latest news, updates and use cases on the Docker container technology will be presented in San Francisco, CA from April 29–May 2, 2019. The venue for the EU event is not announced as of 2018 but should be available on the official site quite soon.
As this conference is conducted by Docker, it enables the visitors to receive the Docker Certified Associate accolade and provides access to Docker Hallway Track — a networking and communication system for 6,000+ attendees. These 4 days will be packed with 5+ tracks and 100+ sessions filled with insight on the latest Docker technology evolvements. The pricing varies from $1,000 for early birds to $1,400 for standard tickets, and the lodging is usually around $290-$350 a night.
QConLondon
QCon London is an event for software architects and senior developers, DevOps cloud architects and other competent IT experts with firsthand experience. It's annual and attending it grants access to nearly 20 tracks, 17 workshops and more than 150 speakers from Microsoft, Google, Facebook, Uber, and other technology giants. The event will take place from March 4-6 2019 and the price varies from £545 for early birds to £2,829 for full-price tickets.
JAX DevOps
JAX DevOps is another annual popular DevOps and software development conference. It takes place in London, the UK from 14th to 17th May 2019 and is dedicated to discussing the latest challenges in Continuous Delivery, software development automation, and other mission-critical business processes. This is a conference of choice for seasoned DevOps professionals, which is well-known for critical thinking, rich examples of working solutions and best practices to ensure lean and efficient business operations. The tickets cost £399 – £699, which is quite an affordable sum for accessing the knowledge of top-of-the-line DevOps engineers.
ChefConf
ChefConf is an event from Chef dedicated to explaining the features of the platform. This conference helps the attendees understand the full extent of Chef CI/CD and infrastructure management capabilities through multiple workshops and sessions covering real-life Chef usage scenarios.
The conference will take place on May 20-24, 2019 in Seattle, WA. The tickets cost below $1,000 for early birds and you will be able to network with more than 1,500 attendees.
KubeCon/CloudNativeCon
KubeCon (and CloudNativeCon) is an annual Linux Foundation event dedicated to highlighting the latest developments, real-world use scenarios and best practices for Kubernetes technology.
The attendees can pass an express test and become Kubernetes Certified Administrators after completing the short Kubernetes Fundamentals course. This event is packed to the brim with useful knowledge from the core developers of the most popular container management platform.
CloudNativeCon is a paired event showcasing the current progress of Cloud Native initiative and other projects from Linux Foundation. There will be 3 such events throughout 2019, the closest starting on May 20-23 at Fira Barcelona, Barcelona, Spain.
The pricing for companies is $1,100-$1,200 per team member; for individuals ~$600; for students — $150. If you wish to attend as an individual, you must register online for attendance. You will then be emailed an individual registration code for purchasing a ticket.
PowerShell + DevOps Global Summit
PowerShell + DevOps Global Summit is a DevOps event for those software engineers, who have to work with Windows infrastructure using PowerShell scripts for automation. Through its OnRamp track, the event helps 40 chosen entry-level IT engineers among attendees master the DevOps workflows using PowerShell scripts.
This summit will take place in Bellevue, WA from April 29 — May 2, 2019. The admission fee is $1,650 per visitor, but there are several free tickets for OnRamp track. The event will also host the Iron Scripter competition, so feel free to join any of the teams!
DevOps World | Jenkins World
DevOps World | Jenkins World is organized by Jenkins and centered at explaining the latest improvements in Jenkins platform. With more than 2,500 attendees, it is the largest Jenkins-themed DevOps conference worldwide. If Jenkins is your CI/CD tool of choice visiting this conference is a must. 100+ sessions cover the latest additions to Jenkins, best practices and real-life usage scenarios. The early bird tickets cost around $500, while the full price is about $1,200, so registering in advance is quite recommended.
DevOps Enterprise Summit
DevOps Enterprise Summit (or DOES) is a conference on DevOps use in enterprises. Presented by prominent experts with rich hands-on experience, there are case studies on the hurdles of implementing DevOps in enterprises and working scenarios on overcoming these issues. The event is held in London from 25-27 June 2019 and despite the full ticket price being ~$2,000, the previous conferences were sold out, so it's definitely worth looking at.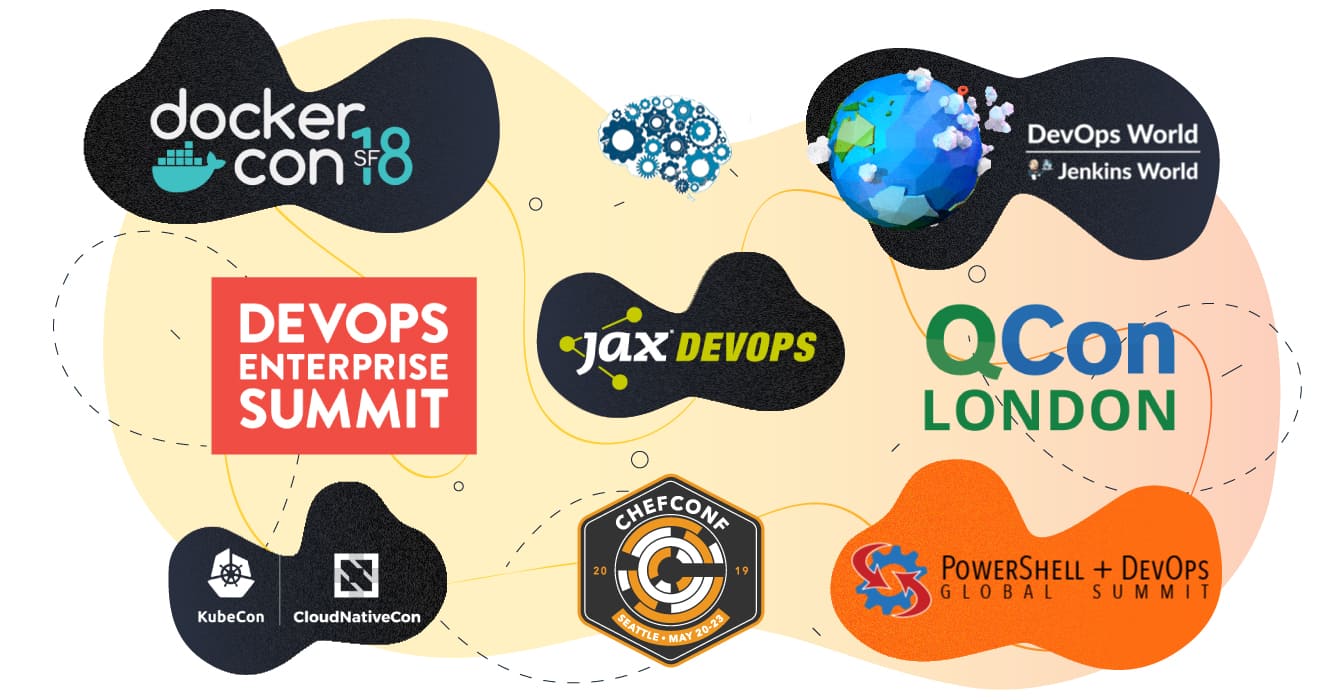 Final thoughts on upcoming DevOps conferences of 2019
We merely tapped the top of the iceberg here, as there are innumerable DevOps conferences, hackathons, meetups and workshops hosted by companies, communities, and organizations worldwide. We recommend checking the GoToDevOps list for the events closest to you, or the most useful for your goals. Good luck and hopefully we will meet at some of these events!