IT outsourcing billing models: fixed price VS dedicated team
When the company decides to go for outsourcing, there are several important questions that need to be answered. One of them is "what is the best billing model for my project — dedicated team or fixed price?". We compare fixed price VS dedicated model benefits to help you select the most appropriate approach for your next outsourcing project.
First of all, why go for IT outsourcing at all? There are multiple compelling reasons for delegating the tasks to the teams that have the relevant expertise with them:
Cost-efficiency. Hiring an IT outsourcing team is always cheaper, than recruiting the talents in-house and forming a cohesive and productive team out of them.
Time-to-market reduction. You gain instant access to skilled professionals that begin working on your project from day one, so the project lifecycle begins much shorter and new product features are delivered much faster.
Skill pool. As mentioned above, IT outsourcing teams usually have a large pool of highly-skilled professionals, able to address any issue your project might face.
Turnkey solutions. Due to accomplishing multiple projects, IT outsourcing teams have a wide range of turnkey solutions for typical challenges that arise during projects. This allows to build the infrastructure and workflows much easier as nobody has to reinvent the wheel.
Long-term partnership. Most of the time, IT outsourcing projects grow into long-term partnerships, when the customers discover new areas where their contractors can help them and are able to concentrate their efforts on growing their business, while having their backs covered by their IT services providers.
Thus said, if you have already decided to go for IT outsourcing services, the next question is — what IT outsourcing company to choose?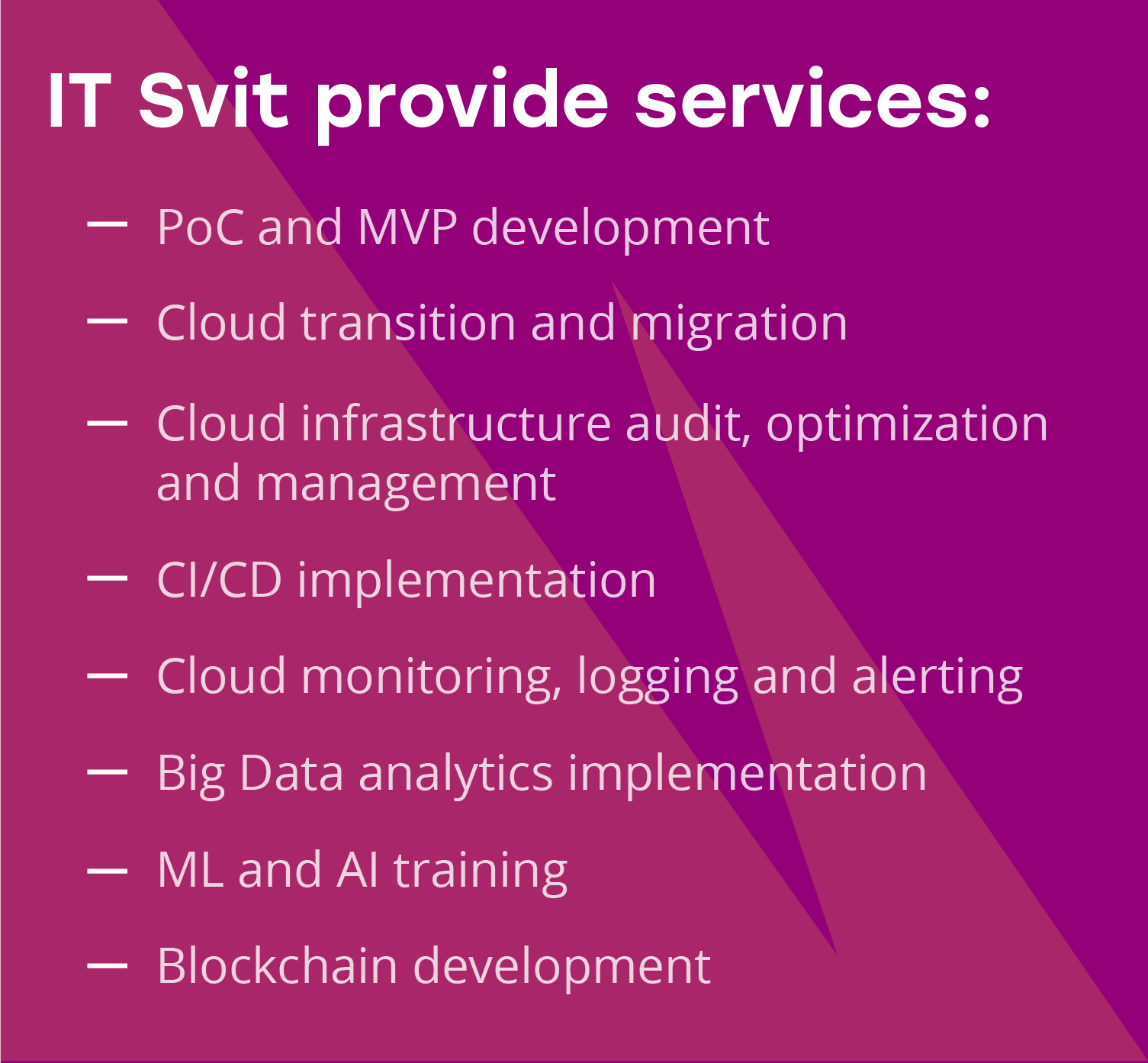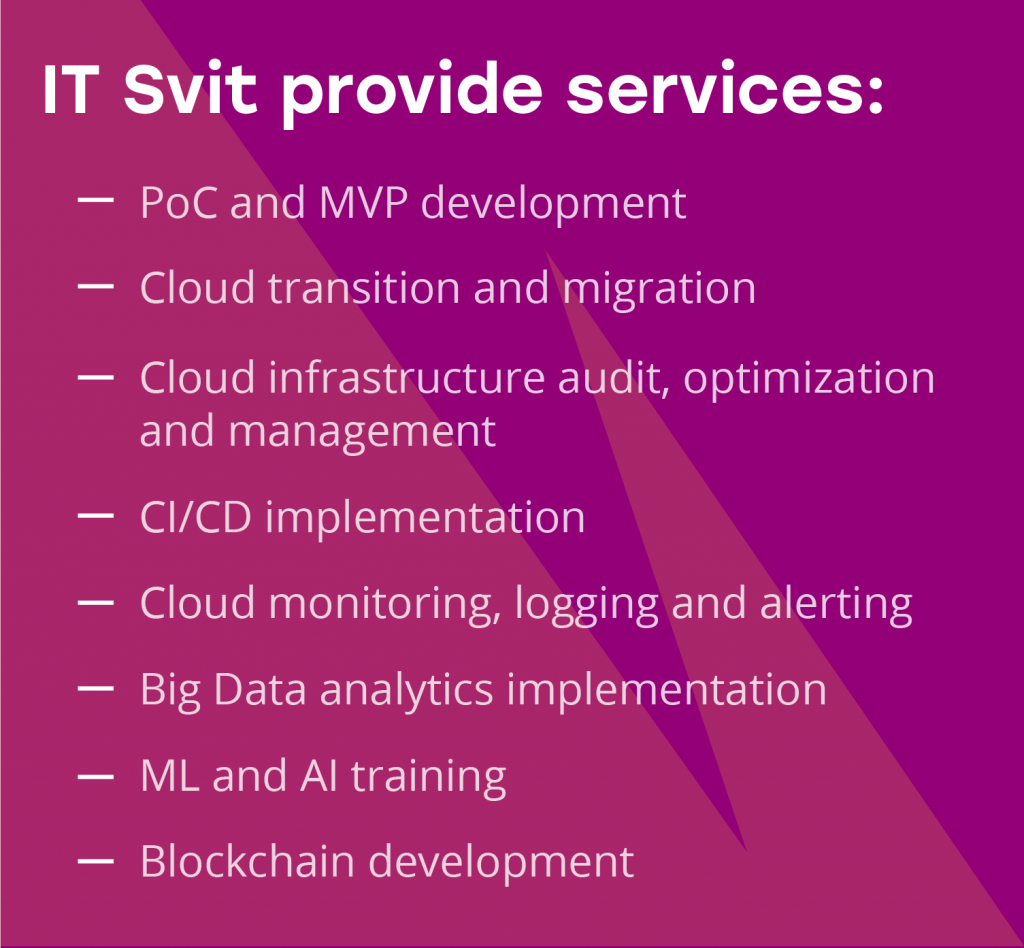 Choosing a reliable IT outsourcing provider
It is pretty obvious, that you are interested in successful outcome of your project and would like to hire a trustworthy IT services provider. How to find one? The best way is looking for a company with lots of accolades, positive customer reviews and multiple successfully finished projects that are similar to yours. It would also be best to search for a Managed Services Provider or MSP, not a simple IT outsourcing team.
MSP is a company that is able to provide the full range of IT services. For example, IT Svit is one of the top-10 MSPs worldwide, according to Clutch, an international technology consultancy agency, and we provide the following services:
PoC and MVP development. We have full-stack web app development expertise using PHP/Laravel/Symfony, Java, Python/Django, Javascript, Node.JS, Vue.JS, Angular.JS, etc. We can also help deliver new features and scale the existing products.
Cloud transition and migration. We help the businesses to move from legacy infrastructures to AWS or Google Cloud, MS Azure or DigitalOcean, migrate between them or move your workloads from public to private or hybrid cloud systems.
Cloud infrastructure audit, optimization and management. We assess the existing cloud infrastructure, determine the existing performance bottlenecks and possible room for growth, apply the solutions and help manage your systems in the most cost-efficient way using the latest DevOps practices and tools.
CI/CD implementation. We help build workflows that automate the majority of routine infrastructure management and software development tasks, greatly increasing the productivity and predictability of your IT operations, using DevOps tools like Terraform, Kubernetes, Docker, Ansible, Jenkins and others.
Cloud monitoring, logging and alerting. We configure vendor-specific monitoring services like Amazon CloudTrail or build custom cloud monitoring solutions using ELK Stack, SumoLogic, Prometheus + Grafana, etc. We also deliver smart alerting via chatbots to Slack or other messengers of your choice.
Big Data analytics implementation. We help build the architecture for bespoke Big Data analytics solutions using Python/Django scripts, JuPyteR Notebook, MongoDB, Cassandra, Apache Spark and Storm and other tools to help turn your machine-generated data into a goldmine of useful business insights that will help improve your decision-making.
ML and AI training. We help choose the most appropriate model for your goals, train and run it to enable predictive and prescriptive analytics and self-healing infrastructure for your production environments.
Blockchain development. We help build and optimize blockchain-based apps and infrastructure for them to enable both cryptocurrency trading and projects in various industries based on the blockchain technology.
Thus said, we can cover almost any requests of our customers (aside from mobile app development, even though we delivered back-end development services for several mobile apps) and have more than 14 years of experience in doing so. Our team of 60+ professionals has successfully accomplished over 800 projects in banking, financial services, production, pharmaceutical industry, marketing and advertising, telecom and entertainment, etc. We will surely be able to help you succeed with your project, but we are definitely not the only MSP around, so feel free to search for the team that fits you best.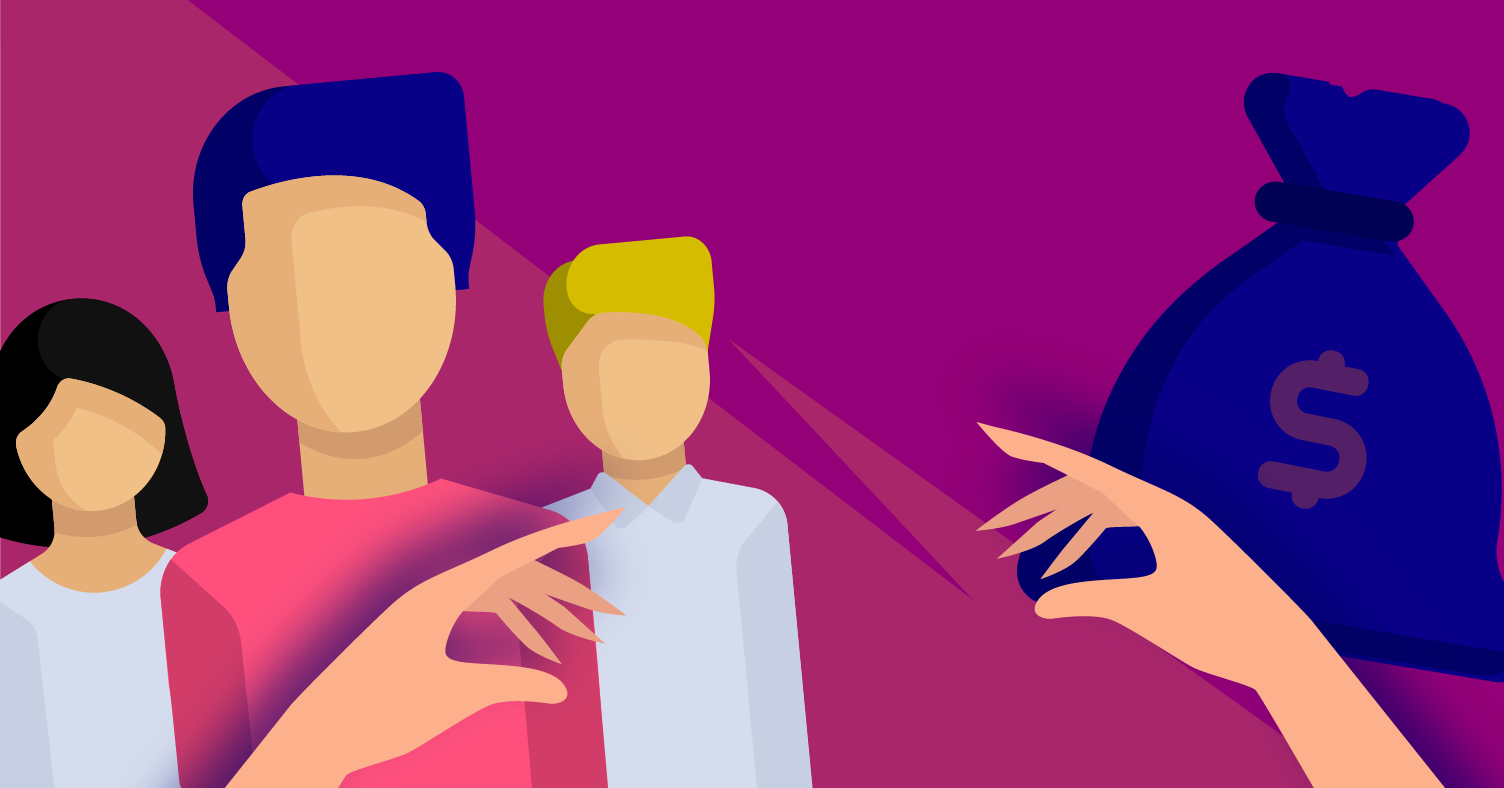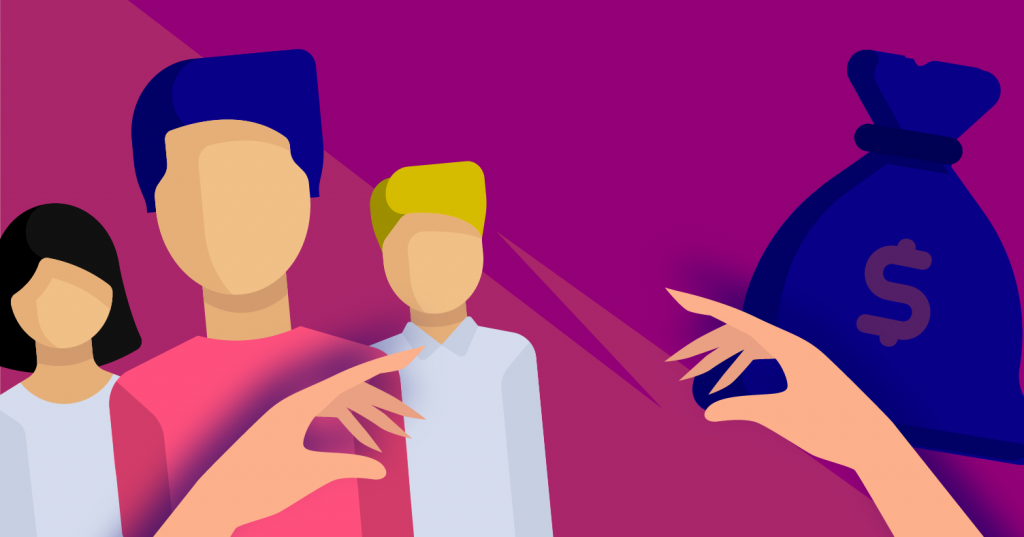 Selecting the appropriate billing model
Having chosen the best team for your project, it is time to define what billing model to use for your IT outsourcing project. There are two main approaches to billing in IT outsourcing: fixed price or dedicated team. Below we list the advantages and shortcomings of every method.
Fixed price. This approach means the project requirements are defined from the start, as well as the team composition, deadlines, milestones and roadmap. This is good for small-to-medium scope projects, where the plan of actions can be defined on the start and there are no foreseeable needs to adjust the project requirements. This is a reliable way to ensure predictable, timely and cost-efficient project completion. The alternative use case for a fixed-price contract is a long-term partnership with rigid scope of responsibilities, like customer/technical support.

This approach has some advantages, which are also its downsides. You can define the team composition at once, but changing it on the go requires reevaluation of the contract price. You know what is being done at each sprint — but adding new features mid-development requires reevaluation of the contract. You will get the results on time, but should you want to speed the process up a bit, or the contractor fails to meet the deadline due to force-majeure reasons, it will require… you've guessed it, reevaluation of the contract.

In addition, fixed price contracts require a dedicated Project Manager to monitor the progress of every task, not to mention that nearly 40% of overall project time can be spent on estimates. There also is a risk that the team will have to drop some minor features to meet the deadlines, so a meticulous monitoring of the project progress is required, which can take quite a lot of time.
Dedicated team. This is an approach best suited for mid-to-long time projects with flexible requirements, like developing a software, performing a cloud migration, transition to the cloud from the legacy infrastructure and other projects that might need adjustment on the go. In this case, the team is formed based on the initial project scope, but both the team composition and the project requirements can easily be adjusted mid-project.

The billing is done on per-sprint basis, based on the quantity of working hours actually spent on your project and hourly rates of each project members + some administrative fees (salary of the PM, workplace expenses, etc.). Overall, such an approach allows paying only for the services actually delivered and splitting the payment in smaller chunks, making it beneficial for both parties of the contract.

The most notable benefits of dedicated team billing model are predictability, continuity and flexibility. The project results are predictable, as the dedicated team reports directly to the PM or you, and you keep the hand on the pulse of the project. They are flexible, as the development is split into multiple sprints, and new features can be added to the plan or the team size can be adjusted pretty easily. They are continuous, as the same team works on the project for a long time and obtains a deep understanding of the project architecture and workflows, which can be later transferred to new team members through developer documentation during onboarding.
Thus said, you choose the most appropriate billing model for your IT outsourcing project based on the specific project details. Sometimes, fixed price is best, and sometimes dedicated team approach provides better results.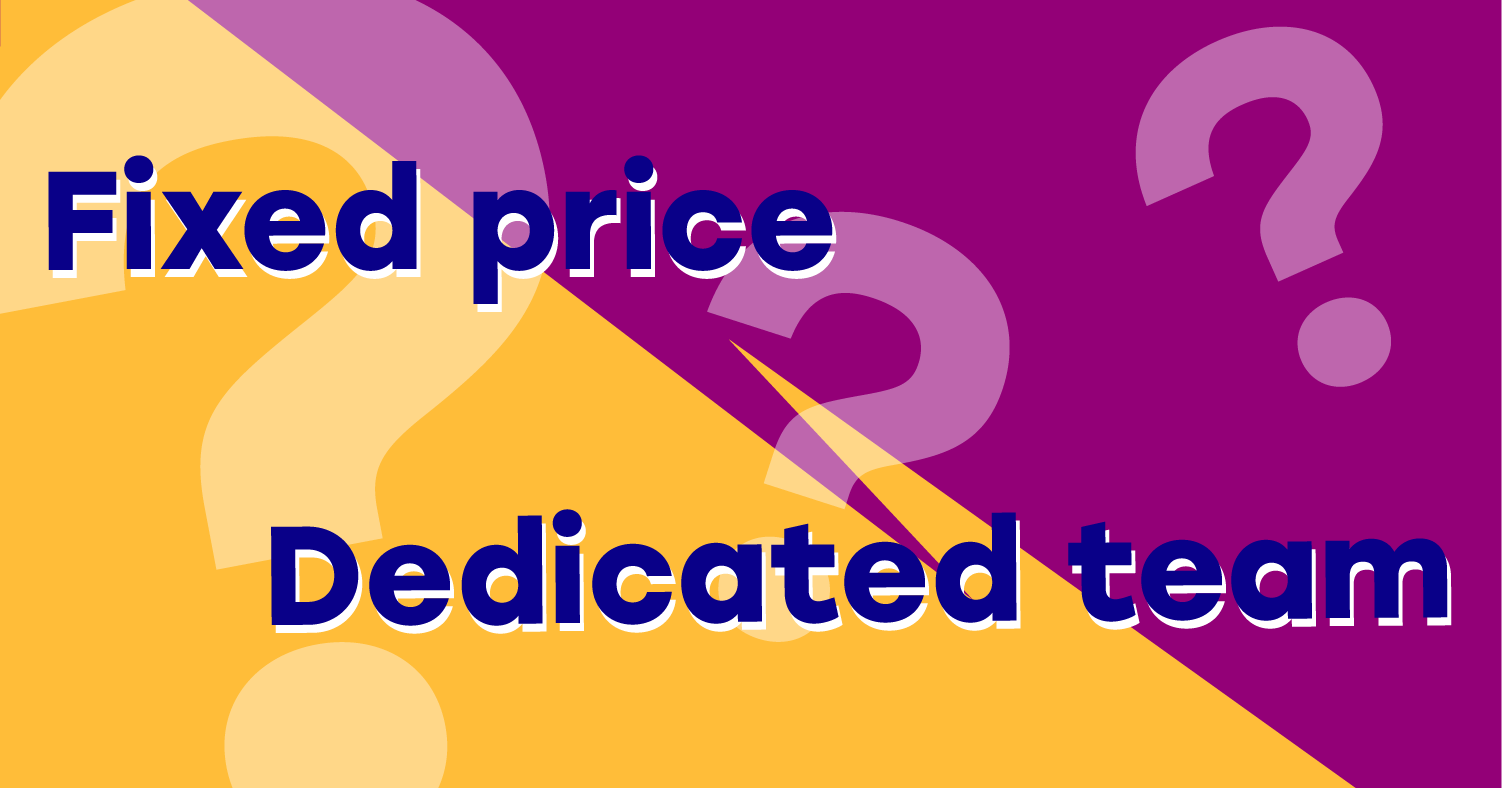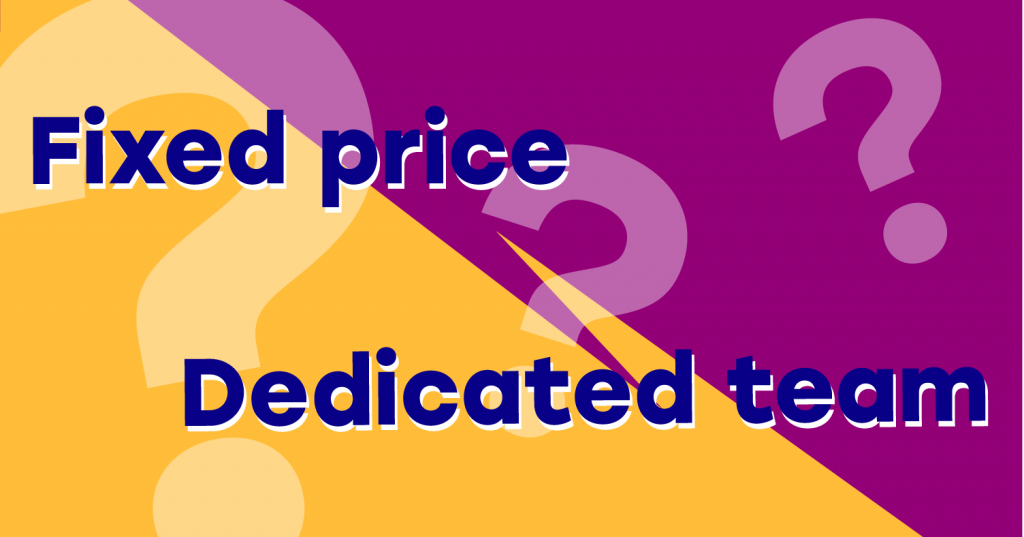 Final thoughts: comparing fixed price vs dedicated team
As you can see, the most important part of succeeding with your project is not selecting the most appropriate pricing model, but finding the most reliable MSP company. This way, they will be able to compare all the benefits of selecting fixed price vs dedicated team billing approach and ensure your project is delivered on time, cost-efficiently and with high quality.
Without false humility — IT Svit is such an MSP, and our multiple accolades and positive reviews prove our point. We are ready to assist you with your project, so should you need our help — contact us with the project requirements, and we will help you succeed!