Hyperautomation! How DevOps can help with it
It is already happening — Robots are taking over the world! Joking apart, the digital world is evolving inexorably, and Robotic Process Automation (RPA) has turned into one of the trendiest IT industry's vogues with more than $1 billion market worth for today and planned growth of at least 40% by 2027. What can stop RPA from scaling-up? Without fear of sounding harsh, we can tell what makes RPA almost pointless — wrong decisions and wrong directions, taken since the beginning, and hasty, half-baked choices based on a scarcity of analysis. Solution? Why don't we combine RPA and AI? With Artificial Intelligence (AI) and RPA mixed, we can have it all — decision-making based on thoroughly analyzed data/insights and effective project execution. What about people? You may ask. Not to worry, with the right upskilling programs, employees will just handle higher-value functions and decision-makers will make well-designed resolutions. The process of RPA and AI merging has already got a term — Hyperautomation, which was used by Gartner when they talked about 2020 and beyond technology trends. We at IT Svit think that hyperautomation is something that DevOps engineers can handle. With that, if you want to learn how DevOps provides hyperautomation for the business, keep on reading.
What is hyperautomation, how does it work and what benefits can you get from using it?
Hyperautomation is also termed Digital Process Automation (DPA) by Forrester and Intelligent Process Automation (IPA) by IDC. No matter which term you use, all of them mean the same — a merger of state-of-the-art digital technologies such as Artificial Intelligence and Robotic Process Automation to bring the utmost automation into reality. And, once again, here we do not imply that hyperautomation will replace people, to the contrary, people will concentrate on more prolific and worthwhile work. What's more, hyperautomation and humans' intellect/creativity combined will help businesses deliver high-performing, customer-oriented products, and services while significantly diminishing and optimizing expenses.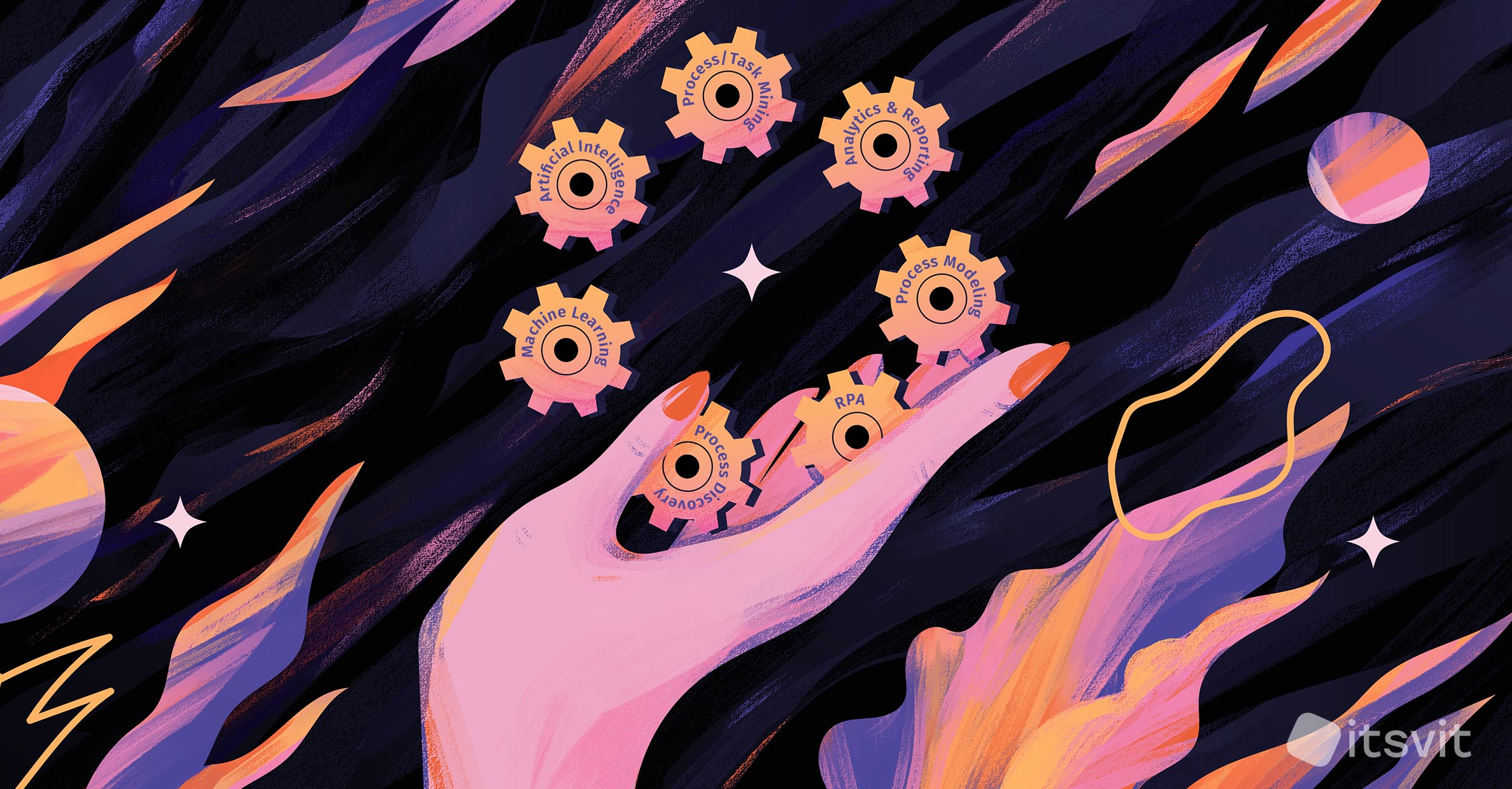 Here are key hyperautomation segments:
Robotic process automation (RPA) – is a technology that mirrors humans' regulated and monotonous assignments without the ability to dig into the context, analyzing it and, certainly, learning from it.
Business process management (BPM) – is a foundation of hyperautomation strategy where businesses design new workflows using effective digital tools, test the flows to detect and get rid of bottlenecks and implement the newborn flows into the lifecycle.
Artificial intelligence (AI) – this is where computers demonstrate human intelligence carrying out tasks that were not initially programmed. Virtual assistants like Siri or Alexa are the perfect examples of the implementation of AI into our everyday life. Machine learning (ML) is often used as a synonym to AI, however, ML is one of AI's branches. Machine learning utilizes technologies for the systems to automatically advance with time. Such powerful tools as AI and ML do take businesses to the whole other level, but you need to make significant investments to integrate them properly.
Advanced analytics – is when hyperautomation supplies businesses with effective analytical tools and capabilities. With hyperautomation, businesses handle traditionally inaccessible data, structured and unstructured, because here we do not rely on RPA only, but cover all possible insights due to RPA powered with AI.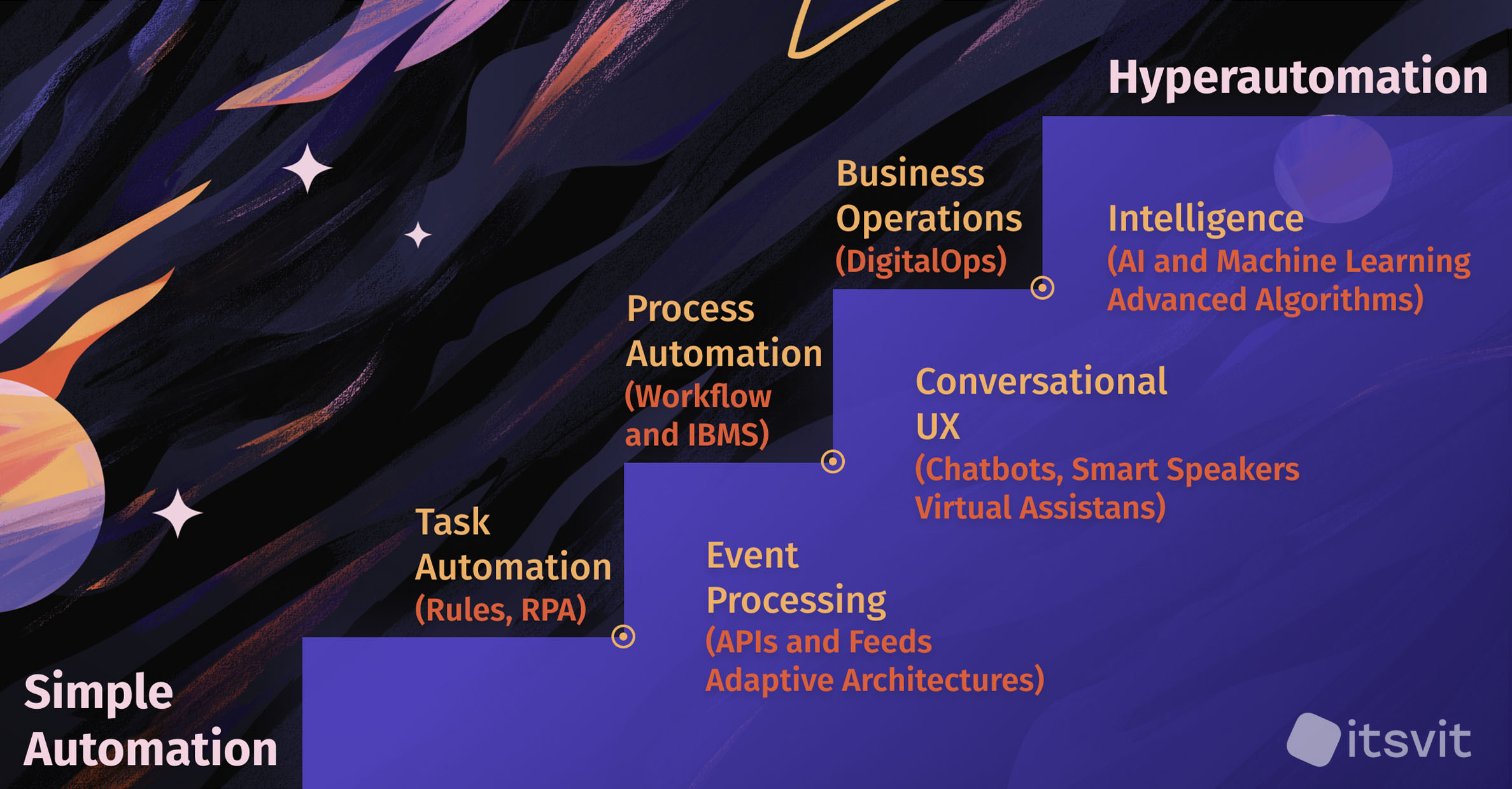 How does hyperautomation differ from simple automation?
According to The International Society of Automation (ISA), automation is designing and enforcing technology that aims to track and supervise software delivery. While hyperautomation fixates on in-depth chronicled data analysis with the help of AI and cycle automation formed on problem-solving data.
Here are the main hyperautomation benefits:
Lower costs. According to Gartner, by 2024 organizations will reduce operational expenses by 30% with the help of hyperautomation technologies. With in-depth customer-centric analytics, advanced data analysis, smart planning and project implementation by the digital workforce, businesses significantly boost their ROI and cut down costs.
Faster cycle. Obviously, with hyperautomation, organizations save much of their time initially wasted on discovering, analyzing, designing, operating, tracking, measuring, monitoring, reassessing and, consequently, delivering products faster.
Increased customer satisfaction. With a hyperautomation customer-centric approach and the fact that teams have time and energy to improve the quality of the product, customer satisfaction level increases notably.
Eliminated toil. Teams do not have to cover tons of tedious, repetitive tasks. They can concentrate on more innovative and advantageous work instead, which will definitely boost their productivity.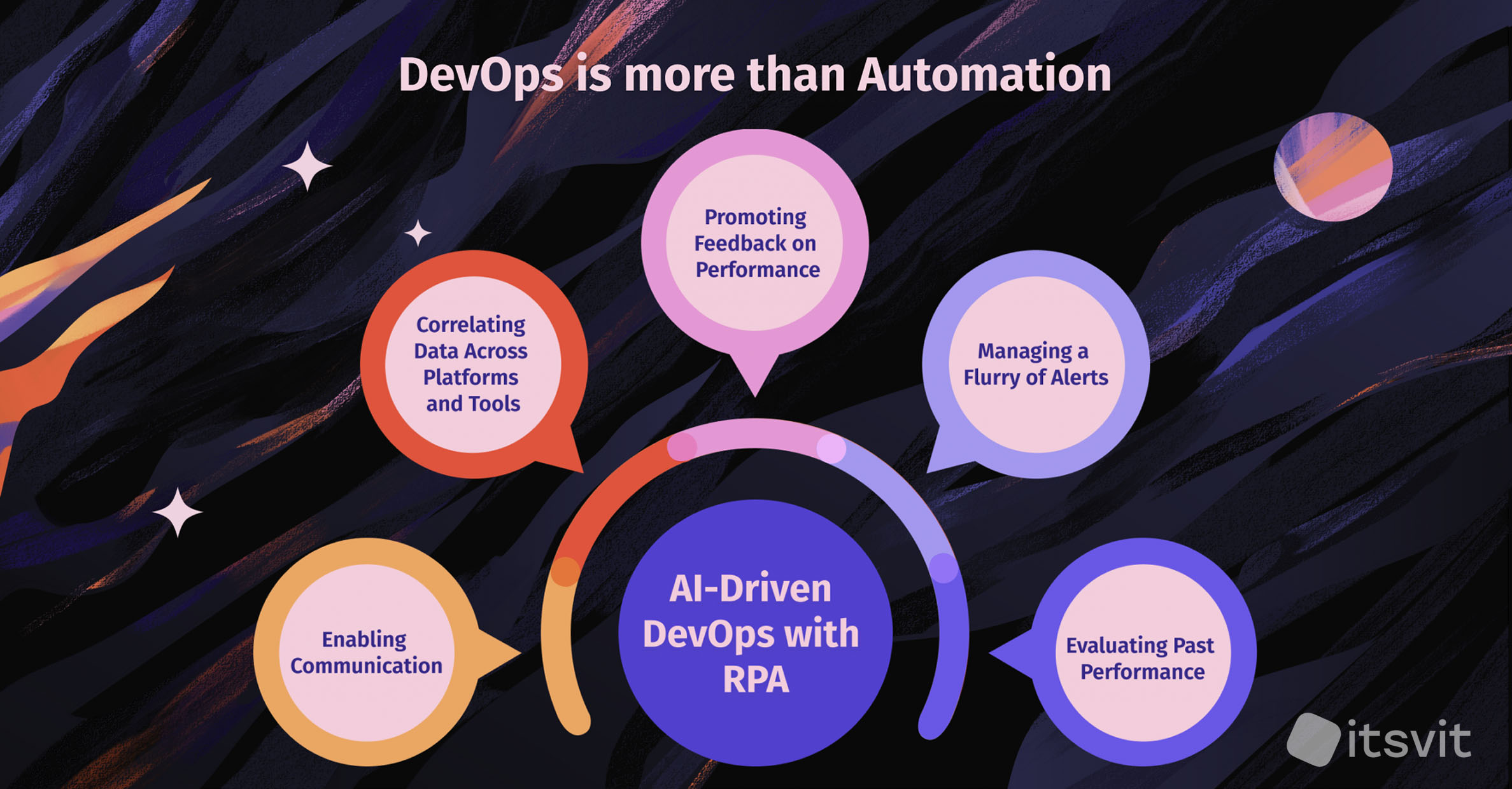 DevOps-style hyperautomation for your attention
According to Gartner, hyperautomation is "…the application of advanced technologies, including artificial intelligence (AI) and machine learning (ML), to increasingly automate processes and augment humans. Hyperautomation extends across a range of tools that can be automated, but also refers to the sophistication of the automation (i.e., discover, analyze, design, automate, measure, monitor, reassess.)" Interestingly, if we think carefully, the whole meaning of Gartner's "sophisticated" automation that involves a continuous flow of exploring, analyzing, planning, automating, tracking, estimating, releasing and monitoring is DevOps companies' grunt work. Because when we bring up a "DevOps" term – automation of the flows, immediately springs to mind, however, DevOps is more beyond simple automation. For DevOps experts, automation is one of the components of the whole process utilized for further modification and continuous enhancement of the systems. Hyperautomation trend gets organizations' decision-makers to realize that they need to radically convert their business operation focusing on customer satisfaction. With DevOps stimulating high-performing software delivery, this user-oriented stance is practically achieved. This partly involves automation when tedious and bulky assignments are completed more promptly, frequently and accurately which involves both teams of DevOps. For example, devs can utilize Jenkins to build and test their code continuously. The operations team embraces IaC, CaC, PaC, policy-as-code and software release mingled with fully automate formerly fallible and arduous assignments. However, it's not that easy to find the right hyperautomation tools and implement them effectively. More challenging this task is for small businesses and startups that pretty often experience a lack of skilled professionals who could deal with the breadth of automation mechanisms, combine and coordinate them. If this is your case, we can recommend addressing mature DevOps services companies for them to implement hyperautomation into your environment. With hyperautomation expanding, the software must be agile and easily integrative to plug-in newly introduced technologies and scale-up operations effectively.
Wrapping things up
AI+RPA brings automation to the whole next level where these advanced technologies, when properly combined, easily run-over single automation tool limitations. At this point, businesses can move beyond original process restrictions and automate tedious, laborious tasks. What's more, teams when freed from repetitive assignments get focused on improving the quality of the product which significantly increases customer satisfaction and productivity. Hyperautomation, however, requires prudent preparation and discharging. IT business leaders should know how digital technologies fit into their existing workflows, and what roles they will have. To avoid serious consequences, in some cases rather disastrous, IT businesses might have when recklessly introducing hyperautomation into their processes, we recommend addressing experienced DevOps companies.