20 reasons to order IT outsourcing services from Ukraine
Outsourcing IT tasks to the dedicated teams outside the company is a major trend nowadays. Why businesses prefer to outsource their IT projects to Ukraine? For 20 important reasons!
EU and USA are the major providers and consumers of top-notch products, technology, and services. Their combined share of the global GDP is around 33-35% and mostly consists of digital services, healthcare and insurance, real estate and high-tech products.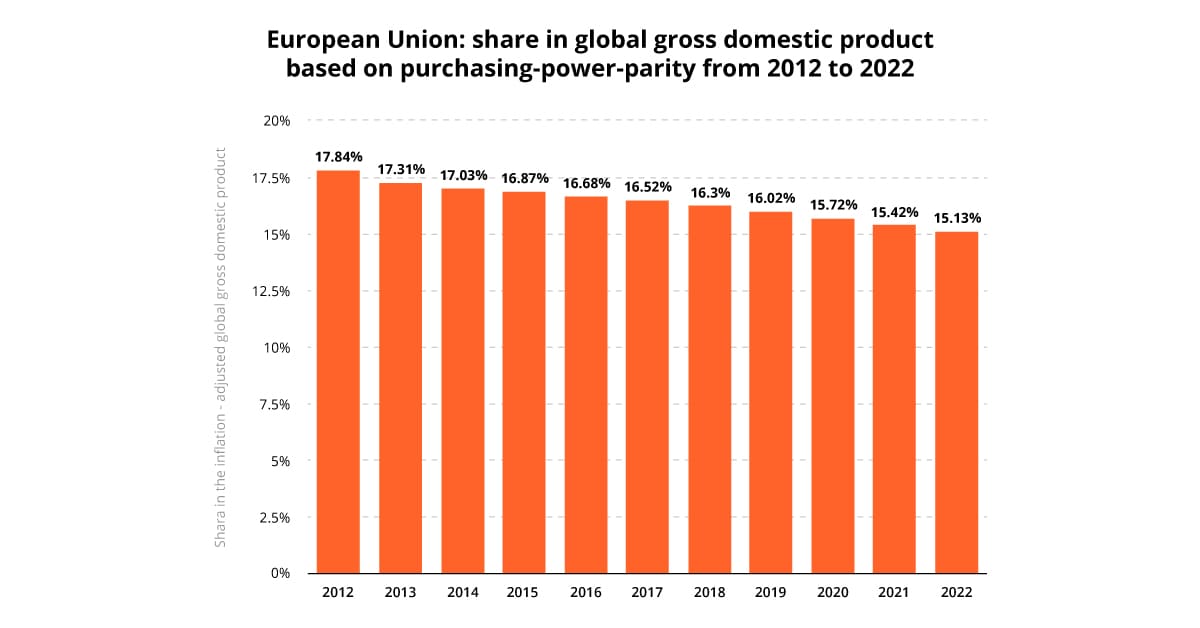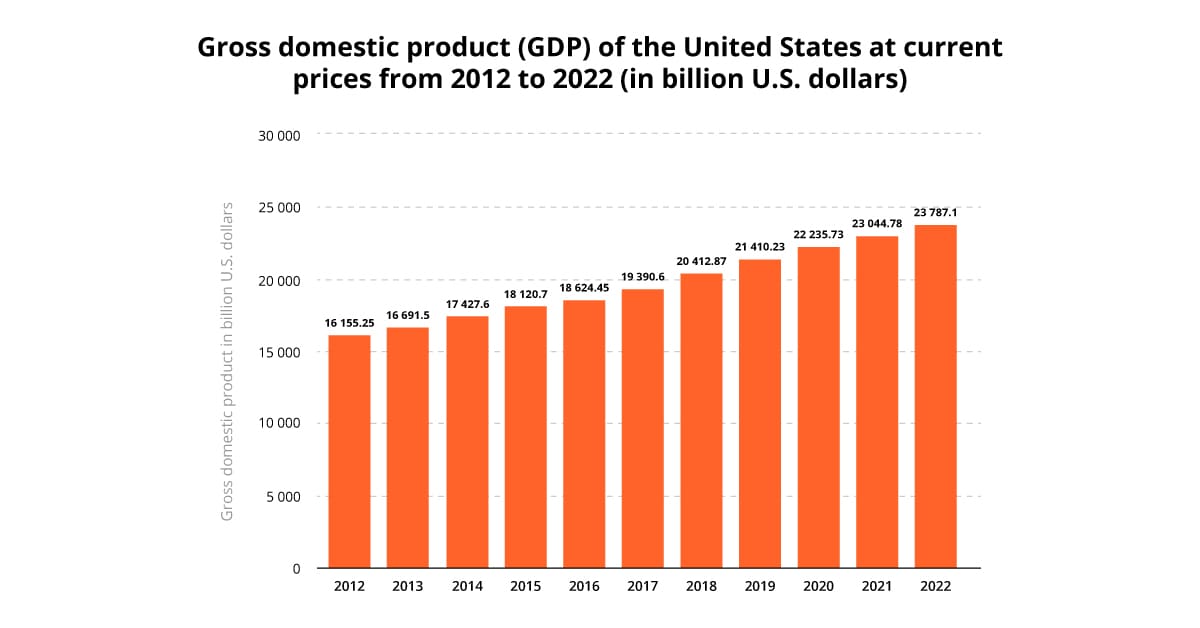 However, both of these graphs show there is a dynamic, and while the US GDP grows at a steady pace, the EU faces stable global GDP share decrease. The reasons for that are multiple, yet the main result is the ever-growing need to optimize spending to remain competitive in the market for startups, SMEs and large corporations alike.
The US and EU companies must optimize spending to remain competitive and IT outsourcing is the way to do this
Outsourcing the most resource-intensive or talent-requiring IT services is the global trend that is constantly on the rise. An in-depth Global Outsourcing Survey from Deloitte shows that throughout 2014-2016 IT outsourcing skyrocketed, and highlights the three main reasons:
Outsourcing provides much more value than simply cutting the costs. Specialized IT services providers accumulate experience from many business cases and become the centers of innovation. Employing such services means getting instant access to the latest tech, best practices, refined workflows, and innovation.
Outsourcing helps cope with industry regulations and cybersecurity. Managed Services Providers have to comply with multiple regulations like GDPR and refine their workflows in terms of ensuring the security and integrity of the data they process. For the businesses, this means that all the regulatory compliance issues and risks are dealt with on the outsourcing partner's side.
Outsourcing becomes a full-scale partnership, rather than merely hiring a contractor for a job. A Managed Services Provider can audit the existing IT infrastructure and processes, optimize the systems and the workflows, help remove the operational bottlenecks and much, much more.
This is further proven by an in-depth report on the benefits of outsourcing to Ukraine for startups from Silicon Valley. It is written by  John Sung Kim, a member of the Forbes Technology council, an American entrepreneur and startup founder from Silicon Valley. As the US and EU businesses realize the full potential of such a partnership, the amount of outsourcing grows steadily. Additional benefits of IT outsourcing include the following:
Helping the businesses concentrate their resources on their core operations
Ensuring operational flexibility to adjust the scope of any IT-related activity as needed
Enabling the companies to undergo the successful digital transformation
Optimizing and simplifying the resource allocation
Transforming the corporate culture to increase productivity
All the reasons above account for the fact that IT outsourcing across the globe grows at GAGR of 6.2% and will reach nearly $500 billion by 2022, according to Stratistics MRC report.
However, there are multiple outsourcing regions worldwide — from Eastern Europe countries to India and Pakistan. Which region to choose? We list 20 facts confirming the idea that Eastern Europe in general and Ukraine, in particular, are the best choice for that.
20 IT outsourcing facts about Eastern Europe and Ukraine
10 countries from Eastern Europe made it to Bloomberg Innovation Index 2018. These countries are the Czech Republic, Poland, Hungary, Bulgaria, Ukraine, Estonia, Lithuania, Latvia, Romania, and Moldova.
Ukrainian developers are the best in terms of delivering cybersecurity solutions, according to HackerRank challenge. Poland topped the list for Java applications, the Czech Republic for Shell, and Hungary for Tutorials.

International business rating agency Clutch.co from Washington, D.C. lists more than 1,600 web development and IT services providers from Eastern Europe. Some of them make it to the very top of the worldwide ranks in their respective categories.
Lviv is amongst the cheapest cities for digital nomads, according to a report from LonelyPlanet.
According to DOU.ua, the IT-oriented business portal in Ukraine, 80% of Ukrainian IT industry employees speak English fluently or on Upper Intermediate level and there are no cultural barriers between the customers and the contractors. This is a huge benefit as compared to many other outsourcing regions worldwide.
More than 100 R&D centers of global corporations in telecom, gaming, eCommerce, and software development are located in Ukraine. The most prominent of the global companies behind these centers include Apple, Samsung Electronics, Ericson, IBM, Microsoft, Boeing, Skype, Wargaming, Magento, and eBay.
18 IT service providers from Ukraine are listed in the Top 100 Global Outsourcing report from IAOP. Clutch lists IT Svit among top 3 IT outsourcing companies in Ukraine.
According to DOU report, IT outsourcing market in Ukraine is growing by ~30% annually, which results in huge numbers of Junior developers (26%). The dropout rates are insignificant and there is a huge body of Middle developers (36%) with 3+ years of experience and Senior developers (19%) with 7+ years of experience. The rest of the workforce (19%) is comprised of various auxiliary professionals — DevOps engineers, Big Data architects and analysts, marketing and sales, etc.

Ukrainian export of IT services grew $1.1 bn in a year, from $2.6 bn in 2016 to $3.7 bn in 2017. A 33% growth is a significant result for an industry that currently sits in the third place of the exports volume list, after the metallurgy and food industry.
Ukraine has the 4th biggest pool of IT specialists in Europe, with more than 160,000 IT professionals actively engaged in developing multiple products for healthcare, finances, telecom, and marketing.
Ukraine occupies the 5th place worldwide regarding the volume of IT services exports, according to the PWC report.
Time zone is GMT+2, which makes it very comfortable for Ukrainian dedicated teams to collaborate with their EU partners, and for US customers the tasks are usually done overnight.
Most of the Californian startups outsource to Ukraine. Hush, it's actually their best-guarded secret…
Ukraine is listed amongst top 30 IT outsourcing and offshoring destinations by Gartner and climbs the ranks of this list every consecutive year.
In 2017, GSA UK named Ukraine the #1 offshoring and outsourcing destination.
Due to simplified taxation scheme for IT industry, Ukrainian IT specialists cost around $3,000/mo per 1 developer, which allows saving about 70% of the software development budget, as compared to hiring in-house US-based teams, according to Glassdoor.

Eastern Europe is the best region for IT outsourcing according to AgileEngine, and Ukraine ranks 3rd in the rating, after Poland and Romania.
Ukraine made it to the top 20 countries worldwide with the best conditions for startups and doing business, according to The World Bank Group.
Kyiv has huge numbers of investors, surpassing Oslo, Warsaw, Copenhagen or Vienna, according to TechStars.
2017 saw a 45% increase in the numbers of vacancies published on DOU.ua, as compared to 2016. This is yet another proof the Ukrainian IT industry is soaring now and will continue to grow with 10-15% annually.
To summarize it all up, Eastern Europe, in general, and Ukraine, in particular, are great destinations for IT outsourcing. Strong educational background, a large pool of experienced software engineers with deep expertise in various industries, simplified taxation scheme leading to competitive salaries — all of this makes Ukraine a prime choice for IT outsourcing.
Final thoughts on the reasons to order IT services from Ukraine
We hope this material was useful and interesting for you. Multiple reports and researches from reputable international agencies and journals like PWC, Bloomberg, Forbes, IAOP, AgileEngine, the World Bank Group, and Clutch definitely prove that the whole Eastern Europe including Ukraine is a very attractive IT outsourcing destination.
As another proof of the validity of our point, in January 2019 IT Svit and 5 other Ukrainian IT outsourcing companies made it to the Top 50 IT Outsourcing Companies Worldwide list by TheManifest.
In the upcoming articles in this series, we will list the benefits of working with a dedicated DevOps team, compare the leaders of Ukrainian IT outsourcing market and list top 10 DevOps services providers worldwide. Stay tuned for updates! Looking to outsource some IT tasks? Let us know, we would be glad to assist!