HR Cloud Services from IT Svit
Cloud HR consulting services are essential for any company that aims to provide a full cycle of care competitively and cost-efficiently. Dedicated teams of DevOps engineers from IT Svit configure and manage cloud computing for HR businesses from the US and worldwide.
HR business is very competitive as is, so your company needs to be able to utilize every bit of advantage you can get in order to succeed. There are multiple benefits in cloud computing for HR companies — from cost-efficiency and scalability of operations to data security and compliance. IT Svit provides cloud services HR businesses need — from enabling CI/CD pipelines for developing your products to building scalable cloud systems with in-depth monitoring. If this is what you need — we are ready to help!
Full-range of cloud services HR business requires
If your company provides HR services and consulting, you need to store lots of sensitive data securely, provide convenient access to it through a robust app with useful features and implement customer feedback quickly to remain competitive. IT Svit helps reach all of these goals, from managing cloud-based data for HR companies to implementing CI/CD pipelines for software delivery and cloud infrastructure management.
Managing cloud computing for HR solutions
Running cloud-based HR solutions with hundreds of customers and thousands of users requires uninterrupted and reliable performance of cloud infrastructure. IT Svit has in-depth expertise with designing, implementing, optimizing and managing cloud computing for HR. We can help you deploy, run and optimize your AWS or GCP infrastructure, so you can concentrate on growing your business, instead of handling your cloud systems.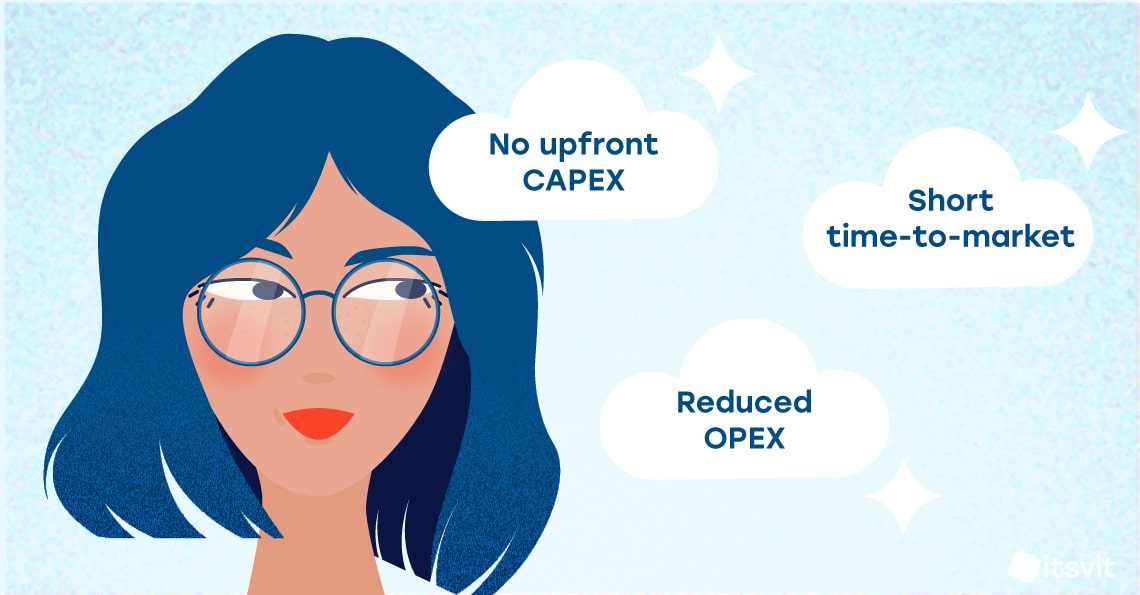 IT Svit provides cloud HR consulting services
HR and recruitment industry is one of the most competitive business domains nowadays. The companies that wish to succeed with their HR initiatives — either using them internally or providing HR-related products and services — must use the best technology and tools at their disposal to remain competitive and succeed in this high-paced market.
This is why many HR businesses come to a realization of the need to move their operations to the cloud, to ensure their app is developed on time, runs smoothly, is robust and integrates well with various third-party software, etc. Using cloud computing for HR provides safety of mind regarding things like scalability, cybersecurity, predictability of development, manageability of operations and speed of incident response. It also enables the implementation of DevOps services, meaning things like CI/CD pipelines for automated testing, seamless updates, automated cloud configuration and management.
There is, however, some seemingly rational aversion to moving the corporate data to the cloud. Trusting some remote company to store your sensitive information, personal details and billing information of your employees is hard. This is why various businesses, especially the enterprise-grade global businesses, prefer to maintain their own data centers and store all the information there.
However, this approach has several significant shortcomings:
Huge capital expenses. In order to store your data and run your HR systems on internal servers, you need to build a server room or an on-prem data center. It will require duplicate power lines and secondary Internet access channels, industrial air conditioning and water cooling units, fire prevention and humidity control systems, etc. In addition, to ensure your servers are safe, you should replicate the data to a mirror server and reroute the traffic using a load balancer. Thus said, to have 1 server with your HR solution in-house, you need to pay for 3 servers and a bunch of supplementary equipment, which is quite costly.
Huge operational expenses. Your servers run 24/7, while your employees work for 8-9 hours a data only. Add the days off, weekends, vacations and state holidays — and the total sum of overpayment on your OPEX can reach up to 40%. Add the salary expenses for the engineering personnel, and the TCO (total cost of ownership) skyrockets all of a sudden.
Long product development cycles. Regardless if you develop your own HR solution or run some box version of a popular HRM system on your in-house servers, updating and adding new features to it will be an effort- and resource-costing endeavor. Building a Git-based workflow of software development, testing and release on-prem requires lots of time and costs quite a sum, as your IT department has to devote lots of time to manually provisioning and configuring various testing environments and virtual servers.
The reasons above contribute to the general situation where both global enterprises and small to medium businesses consider moving their HR systems to the cloud. This helps solve all of the conundrums above:
No upfront CAPEX. When you rent the cloud infrastructure, you need not buy the servers you use. You pay only for the cloud computing resources usage, not for the equipment and hardware used to deliver these resources, as the cost of this equipment is spread amidst all the cloud users. This way, you end up paying approx 0,001 of the actual equipment cost, instead of paying for all 100%.
Reduced OPEX. Cloud systems scale up and down easily, both horizontally and vertically. As all the resources are virtualized, you can add the needed quantities of anything you need, be it CPU, RAM, disk space — or launch multiple instances with predefined quotas to meet the demand, should the need arise. Most importantly, these instances both come online in mere seconds and can be shut down in mere seconds, so you never overpay for the resources you do not actually use.
Short time-to-market. Due to rapid provisioning and automated configuration of the required environments, the software development and infrastructure management processes speed up significantly. This helps reduce the time required for developing new product features or integrating it with third-party modules by a huge percentage, effectively shortening the time-to-market for new features tenfold.
These results seem too good to be true? Well, the catch is that all of these benefits apply only if your cloud computing for HR system is configured correctly. Thus said, to configure the cloud services for HR correctly your IT team must have previous successful experience of accomplishing such projects, which is quite hard to come by.
This is why many businesses that either provide HR products or use them in their operations decide to go for cloud HR consulting services from companies like IT Svit. Our vast expertise in delivering cloud management services helps us configure the required infrastructure and workflows to ensure maximum performance, cost-efficiency, resilience and predictability of IT operations in the cloud.
This is not the only way to obtain these skills, of course. Your business might try to hire DevOps engineers in-house or subscribe to managed cloud services for HR platforms from cloud vendors like AWS or Google cloud. However, going full-on with subscriptions to cloud-specific services is a direct way to vendor lock-in. On the other hand, you can try to find the needed expertise and hire it in-house, but this process is subject to all the standard dangers of the recruitment process — under-qualification, inexperience, sick leaves or quitting the job mid-project.
This is why gaining instant access to a pool of skilled software engineers is best done by ordering business cloud services for HR systems from a company like IT Svit. We have ample experience in cloud infrastructure management and optimization, which will help your company reach the business objectives and gain a competitive edge in your niche. If this sounds like a good plan for you — contact IT svit today, we are always glad to help!