Cryptocurrency Cloud Services For Any Business
IT Svit has in-depth experience with cryptocurrency cloud services. We provide blockchain development and infrastructure, cloud storage for cryptocurrency and other IT outsourcing services from our dedicated teams.
If your business wants to develop an innovative solution based on the blockchain technology, you need to use the best cloud computing services for cryptocurrency development and ongoing support. Using cloud computing for cryptocurrency operations ensures shorter time-to-market and better cost-efficiency of your software delivery workflows. IT Svit helps reach your business objectives by providing top-notch cloud services for cryptocurrency development and operations.
Configuring cloud backup for cryptocurrency projects
Blockchain provides an immutable ledger of records for decentralized computations but requires immense scalability to keep the system fault-tolerant and able to process any amounts of data. Enabling this level of performance requires configuring cloud backup for cryptocurrency development and management operations to keep the system operational at all times. IT Svit has ample experience with enabling automated backup for blockchain operations.
Managing cloud infrastructure for cryptocurrency operations
Many businesses start cloud infrastructure operations for cryptocurrency and blockchain solutions on their own. However, with time it often becomes apparent these systems are not well-configured and begin to hinder your business growth. IT Svit can help reconfigure your existing cloud services for cryptocurrency to ensure their maximum performance, resilience and cost-efficiency of operations.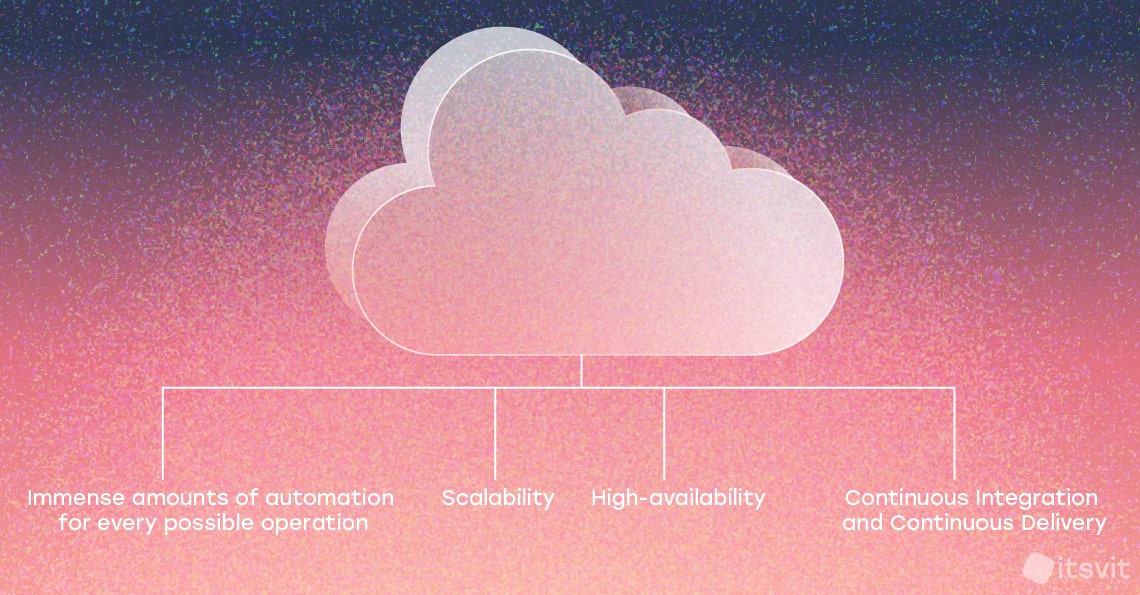 Cryptocurrency cloud services from IT Svit
If your business operates some kind of blockchain-based application or service, you want it to run flawlessly, synchronize seamlessly across the network and provide secure data storage for personal details of your customers. Thus said, using cloud computing for cryptocurrency solutions is the obvious choice, as cloud platforms handle most of your challenges out of the box. However, configuring the cloud services correctly to ensure maximum ROI for your company requires quite a deep level of expertise, which is not easy to come by. IT Svit provides this expertise, as we have more than 4 years of experience delivering cloud services for cryptocurrency projects of any scope.
For example, your business might be running a cryptocurrency exchange. This means you will have to run several replicas of your ledger and you will want to put your blockchain wallet applications in containers. This way, whenever a customer logs into a system, your infrastructure spins up a secure, secluded and closely monitored environment, which is beneficial both for you and for your customer. His billing details and history of transactions are secure, while you are sure even a malicious intent will lead to nothing, as no user can access anything outside of his account, if it is run in a container.
IT Svit has provided cryptocurrency cloud computing services for a big fiat-to-crypto exchange that allowed its customers to trade in 14 different cryptocurrencies and more than a hundred of fiat currencies. We built the infrastructure in such a way that each wallet had a separate container for every type of cryptocurrency it operated, so switching to another currency required a container reboot. Due to using Terraform, Kubernetes, Spinnaker, Jenkins Ansible and other tools, we were able to ensure these containers were spun up in seconds, so the end user barely noticed anything, but the customer enjoyed a safety of mind.
Using the cloud for cryptocurrency and blockchain app development
Another important aspect of using the cloud computing for cryptocurrency operations is actually doing your blockchain app development in the cloud or moving it to the cloud. This allows saving lots of time due to enabling you to utilize all the benefits of the cloud: scalability, high-availability, Continuous Integration and Continuous Delivery, Continuous Monitoring and smart alerting, immense amounts of automation for every possible operation, etc.
For example, IT Svit received a fair share of blockchain development projects, which involved building either an app with Ethereum smart contracts, or launching a cryptocurrency exchange platform. Some of these projects were cloud-native from the start, some had to be moved to the cloud from their original on-prem development environments.
Working in the cloud helped us ensure the required dev, build, testing and staging environments were provisioned and configured quickly and without issues. It was made possible thanks to Terraform and Kubernetes manifests, Jenkins workers, Ansible playbooks and other means to automate infrastructure deployment and ensure there is no room for human error.
As for the cryptocurrency application and platform development itself, we can do it in PHP/Laravel, Python/Django, Java or Node/React/Vue.js, etc. We have in-depth experience with both Ethereum RC20 smart contracts, Bitcoin architecture and Ripple structure, enabling us to develop blockchain applications for literally any business need.
IT Svit manages cloud computing for cryptocurrency operations
One of the biggest benefits of partnership with a Managed Services Provider like IT Svit for any cryptocurrency-operating business lies in the fact that we have in-depth knowledge of all the aspects of software delivery — from design and development to testing and release, as well as monitoring and ongoing maintenance of your applications in production. We can onboard the project at any stage and help successfully accomplish any tasks that stand before your business.
We can build a new blockchain application from scratch, can provide QA and testing for an existing app, can enable CI/CD processes for your development, can build rolling update routines for delivering new features, can enable scalability and high availability for your production environments, and can configure monitoring, logging and alerting for your systems.
If any of this rings a bell — IT Svit would be glad to help you with cryptocurrency cloud services, so just contact us with your project specifications and let's talk business!