Your dedicated team is only 2 hours away!
In the modern business world outsourcing is a great way to enhance your team with needed skills fast. Sometimes, the team you need is literally 2 hours away!
European business has to deal with multiple legal regulations and financial limitations. For one, the GDPR makes keeping the customer data secure a resource-consuming process. To add more, the funding is not as abundant as in America and securing the investment can be a daunting perspective. Lastly, the funds secured should be spent optimally, meaning the businesses have to find the best service for the least money.
Consulting software development to South-Eastern Asia is no longer the solution, as these teams have proven unreliable time and again. There are at least 20 reasons to outsource to Eastern Europe and Ukraine in particular. Since November 2018, there is one more — WizzAir opens direct flights to Kiev, Kharkiv and Dnipro from London, Stockholm and Berlin. Therefore, any business can get to their dedicated team and discuss the project progress in person in around 2 hours!
Why is such a route preferable?
High level of skill. Ukrainian software developers have proven their worth over the last decade. More than 100 R&D centers from world-leading brands like Samsung, Microsoft, Procter&Gamble and other companies are situated in Ukraine. Multiple Ukrainian companies are listed near the top of the list of best Managed Services Providers worldwide, and some of the leaders of IT outsourcing market in Ukraine make it to the top of Gartner's, Forrester's and other ratings for several years now.
Cultural and language fit. Ukrainians share the values of the Western countries. We have the same approach to doing business — on time and responsibly is the way we work. Our holiday calendars mostly match, meaning the team is always at hand when you need them. Most of Ukrainian IT specialists have Upper Intermediate or fluent English, so miscommunication is not an issue.
Same Timezone. Kievan time is UTC +2, meaning the business hours of Western European customers mostly coincide with their Eastern European contractors.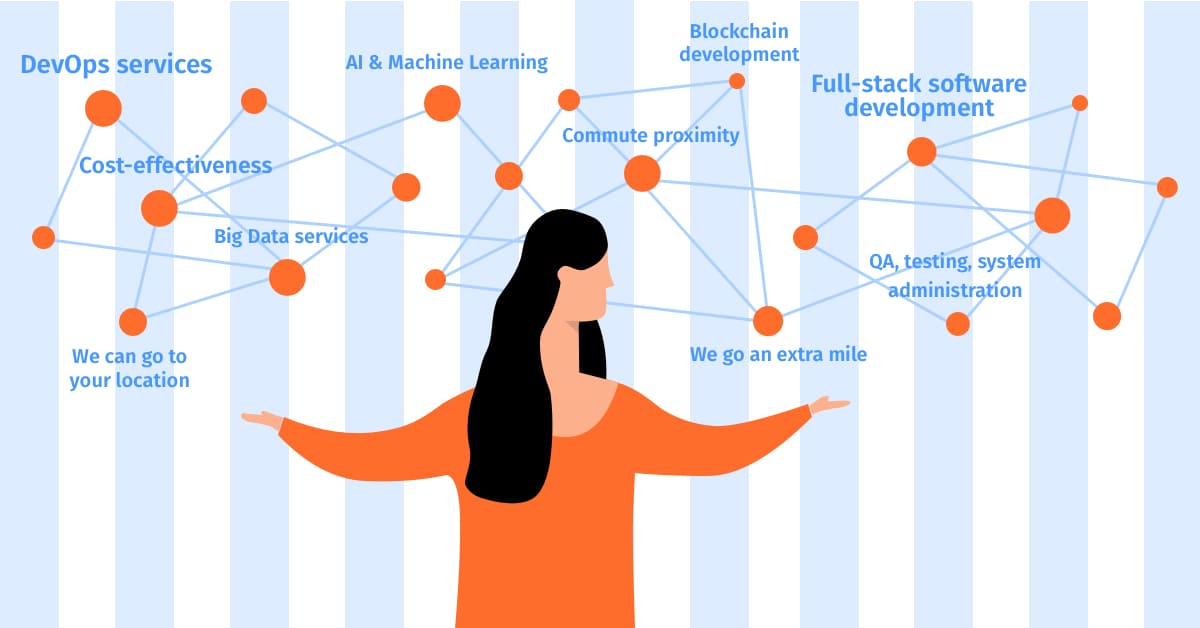 Kharkiv-based IT Svit company is one of the possible destinations for such a partnership. Why choose us?
Diverse and highly skilled team. We house 50+ software engineers who are apt at multiple fields:
– DеvOps expertise (cloud transition, IT infrastructure optimization, system performance audit)
– Big Data services (design and implementation of bespoke Big Data solutions, setup of AWS, GCP, Azure features)
– AI & Machine Learning (selecting, training and implementing appropriate AI models for various business tasks)
– Full-stack software development (from PHP and Laravel to React.JS, Java, Python and Vue.JS) — we can design and develop any type of product
– Blockchain development (design and full-scale development of crypto exchanges and other apps)
– QA, testing, system administration (manual and automated testing and QA, Windows and *nix system administration)
Commute proximity. Kharkiv has a well-developed infrastructure with multiple transportation options including the subway. You can reach any address in Kharkiv in under 40 minutes, and most of hotels, restaurants, and entertainment venues are located close to the center. The IT community is mostly concentrated in the "Kharkiv Silicon Valley" — near the "Botanichny Sad" subway station.
Cost-effectiveness. While most of the international corporations have their offices at Kyiv, hiring Kharkiv IT specialists is much more affordable, as the salaries here are lower than at Kyiv and much lower than in Europe, with the same level of quality. This makes outsourcing to Kharkiv more feasible and economical for businesses.
Flat company structure. IT Svit has rich experience dealing with various types of projects and we understand the importance of direct communication for the success of the software development. The customer can have direct access to any team member or manager to discuss any aspect of the project and clarify all the important points.
We can go to your location. Many customers prefer the onboarding to take place at their location. We are ready to comply in order to get your team acquainted with our specialists, establish the workflows and hone the communication. This approach helps secure a solid ground for further fruitful long-term partnership.
We go an extra mile. Many IT Svit customer reviews emphasize the fact that we suggest the project improvements that were overlooked during the planning stage or became obvious during the development. This way, we remove the possible bottlenecks before they become an issue, saving our customer's money and our operational overhead.
Contact IT Svit and we will help you make your project a success!